Colorado Mass Shooting Leaves Five Dead, 18 Injured At LGBTQ Nightclub
The 22-year-old shooter has been identified as Anderson Lee Aldrich.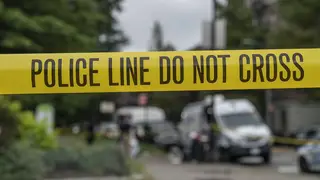 A Colorado mass shooting at an LGBTQ nightclub has left five people dead and 18 others injured.
According to ABC News, the suspect, 22-year-old Anderson Lee Aldrich, began his shooting rampage immediately after entering Club Q in Colorado Springs on Saturday night (Nov. 19).
More lives may have been at risk if it weren't for two people who Colorado Springs authorities call heroes, as they approached Aldrich and began fighting with him.
Police Chief Adrian Vasquez said during a news conference that the first 911 call came in at 11:56 p.m. Saturday night. The first officer arrived at midnight, with the suspect being detained two minutes later.
11 ambulances also responded to the scene to treat victims.
"Club Q is a safe haven for our LGBTQ citizens," Vasquez said. "Every citizen has a right to feel safe and secure in our city, to go about our beautiful city without fear of being harmed or treated poorly."
Police said they recovered at least two guns and this tragedy is being investigated as a hate crime.
Aldrich is currently in hospital after sustaining injuries and his release will be examined by medical workers, Lt. Pamela Castro of the Colorado Springs Police Department said. Police did not shoot at Aldrich.
Club Q described the night's unfortunate occurrence as a "hate attack" and they are "devastated by the senseless attack on our community."
Several of the 18 people injured are in critical condition with gunshot wounds.
The club was planning on hosting a drag brunch and show on Sunday (Nov. 20) for Transgender Day of Remembrance. The club's website now states it'll be closed until further notice.
This is a developing story.