Father Shares His Final Text Messages With Son Slain in UVA Mass Shooting
Sean Perry was unaware that his son was shot when he sent a final message inquiring about his well being.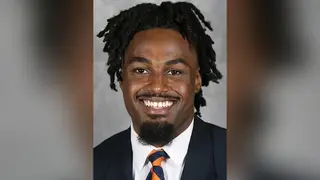 Sean Perry, the father of a University of Virginia football player killed in the Nov. 13 mass shooting, shared a few of his final text messages with his son, including his last words to him.
Meanwhile, accused gunman Christopher Darnell Jones Jr. was denied bond Wednesday (Nov. 16) at a court hearing in Charlottesville. 
Authorities charged Jones, 22, with three counts of second-degree murder and three counts of using a handgun in the alleged commission of a felon.
CBS News reports that Perry exchanged a text with his son, D'Sean Perry, on Saturday (Nov. 12) just before 9 p.m. after D'Sean's team, the Virginia Cavaliers, lost a football game 37-7 to the Pittsburgh Panthers.
"Everything good sir? Just checking up," he texted his son, a UVA junior who plays linebacker.
D'Sean responded: "Yea, you watched the game today?"
At about 6 p.m. the next day, Perry texted his son a clip from the game in which he made two solo tackles. He encouraged D'Sean to "Keep on working," the final words to him while his son was still alive.
Later that evening, the police said that Jones, a UVA student and former football player on the team, opened fire on a charter bus filled with his classmates near a campus parking garage. He allegedly killed Perry and two other UVA football players, Devin Chandler and Lavel Davis Jr., and injured Marlee Morgan and Michael Hollins.
Unaware that his son was shot, Perry texted, "Yo good up there?" But he received no response.
On Tuesday (Nov. 15), the grieving father tweeted, "I know my son was calling for help. I couldn't help my son. I know he was calling somebody."
He also tweeted, "God has the ultimate last word. D'Sean rest easy my [son]. Your journey here has been nothing [but] amazing son. We always knew you were special & God lend you to us. You definitely finished what you started out to do."
CNN reported that Jones was on the bus returning to UVA from a field trip in Washington, D.C. At the court hearing on Wednesday, prosecutors revealed that a witness said Jones fired at Chandler while Chandler was sleeping.
Jones had a previous concealed weapons charge in 2021, as well as a conviction for reckless driving and hit and run that year. But he received a suspended sentence.