President Obama to Deliver Remarks at Rosa Parks Statue Unveiling
President Obama will attend the unveiling of the Rosa Parks statue at Capitol Hill's Statuary Hall on Feb. 27.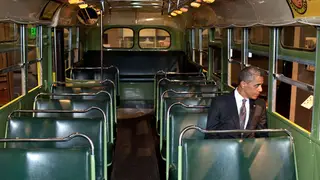 On Wednesday, Feb. 27, he will deliver remarks at the unveiling of Parks' statue at Capitol Hill's Statuary Hall. She is the first African-American woman to achieve the mark.
The president was invited to attend by House Speaker John Boehner and Senate Majority Leader Harry Reid.
Each state donates two statues of their most prominent citizens to Statuary Hall. However the 109th Congress authorized this tribute in 2005. 
Rosa Parks will represent the state of Alabama, where she refused to give up her seat on a Montgomery bus and became the "mother of the civil rights movement."
In a presidential proclamation earlier this month, Obama acknowledged Feb. 4, 2013, as the 100th anniversary of the birth of Rosa Parks.
"Rosa Parks' story did not end with the boycott she inspired," stated Obama in the proclamation. "A lifelong champion of civil rights, she continued to give voice to the poor and the marginalized among us until her passing on October 24, 2005."
BET National News - Keep up to date with breaking news stories from around the nation, including headlines from the hip hop and entertainment world. Click here to subscribe to our newsletter. 

(Photo: Official White House Photo by Pete Souza)