Cardi B Reveals She and Megan Thee Stallion 'Tricked' Fans with Cover Art Ahead of 'Bongos' Debut
"We want y'all to believe that it's giving something that it's not," the Bronx native said.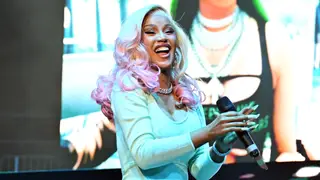 Cardi B. recently confessed that she and Megan Thee Stallion crafted a masterful scheme in anticipation of the upcoming single "Bongos"—tied to its cover art's steamy allure.
Two days before the song's release on Friday (Sep. 8), the "WAP" emcee hopped on Instagram Live, revealing that the track didn't match the artwork presented. Many fans on social media had speculated the duo would reunite for another "WAP"-inspired record in what marked their second collaboration.
"Me and Megan, we tricked ya b—ches. These covers — we tricked you b—ches," the Bronx native said while holding up the CD covers. "Wanna know how we tricked ya? This is not the theme of the song or the video. We want y'all to believe that it's giving something that it's not. You can not outwork me, b—ches."
While the cover art showcased the duo in vibrant, multi-colored curly wigs and revealing swimsuits, the track itself exudes a distinctly Latin flavor.
During a recent appearance on SiriusXM's Whoo's House with DJ Whoo Kid to promote the record, Cardi opened up about creating the song, sharing, "The part where Megan is kind of at in the song, because we chopped the song a lot, like the part where like she's at, it be like "Bong, bong, bong," and I was planning for that to be the hook, but it just sounded so incomplete."
Cardi said she felt that the single needed a feature and that many people on her team "wanted it to go the Spanish route with it, and I'm like, 'I could see that.' I could see that. Of course, like you could feel it, but I was like, 'I feel like I hear Megan on this.'
Megan ultimately turned in her verse, and "it was over." Check out the music video for "Bongos," below.