Grant Hill and Tamia's Relationship Timeline
The former NBA player and singer married on July 24, 1999, and have two daughters.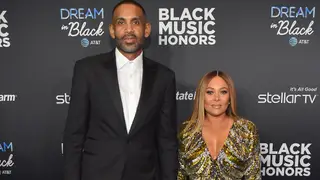 Grant Hill and Tamia exchanged vows in Battle Creek, Michigan, on July 24, 1999.
The six-time Grammy-nominated singer-songwriter and the former NBA player, who have been married for 24 years, share two daughters Myla Grace and Lael Rose. The couple falls under that category of #relationshipgoals. 
Here is a timeline of their enduring love. 
1997: Tommy Hilfiger Party

Hot couple alert! The two were seen at the Tommy Hilfiger party back in 1997. This was within the first year of the couple's dating; they look very lovey-dovey, holding each other close as they pose for a photo. Are you in awe of this couple already? Cause we are! 

1999: Red Carpet Official

The couple made things red carpet in 1997 at the world premiere of Speed 2- Cruise Control. Tamia is wearing a 90's style form-fitting dress, while Hill opted for an oversized black tuxedo. 

2000: Hello, Newly Weds!

Make room for Mr. and Mrs. Hill! The newlyweds pose for a sweet photo after the singer's pe

2001: Baby On Board

The newlyweds subtly announce they are now going to be parents! Tamia proudly showed off her baby bump at Michael Jackson's 30th-anniversary party. 

2004: A Family Affair

Hill party of three! The parents and their daughter to the celebration of Hello Kitty. The famous kitten wasn't the only cutie in the room. Their daughter in her daddy's arms is sweetness overload! 

2005: Supportive Partner Goals!

The R&B singer and her hubby make their way to appear at the National Basketball Association Ice Gala in Colorado. Tamia was making a silly face with her tongue out, and Grant was doing a joyful jog and smiling. 

2008: Grant Joining His Wife On Stage

The former NBA player joins his wife on stage at the 2008 Summer Soul Series. Grant can be seen embracing his wife from behind as she sings in front of an audience. 

2014: USA Basketball Men Send Off

Tamia and Hill bring all the style while at the basketball send-off event powered by Ciroc. From his perfectly fitted suit to her top hat and black leather handbag, these two prove they are best dressed wherever they go. 

2016: White House Date

Mom and Dad are looking right at the white house Trudeau State dinner! The singer is in an elegant silver gown with small silver jewelry detailing. The beauty holds hands with her husband as he walks alongside her in an all-black tuxedo. 

2019: Black Honors Red Carpet

Forever a fine couple, the duo hit the red carpet! Tamia slayed this gold and silver embedded dress standing strong beside Grant at the 2019 Black Honors Music event. 

Family Fun High in The Sky

We rarely see the couple on red carpets these days; however, Tamia freely shares her relationship on Instagram. The Hills recently took a family trip to the Empire State Building with their daughter.