Horrific Video Shows White Dallas Bartender Holding A Gun Brutally Attack Black Woman Over Parking Dispute
Austin Shuffield was fired from his job and charged with assault.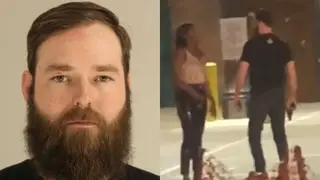 A Texas bartender was arrested after he was seen on-camera viciously attacking a woman over a parking lot dispute. 
On Wednesday night, witnesses saw the bartender, who was identified as 30-year-old Austin Shuffield, confront a 24-year-old woman who was blocking the exit to a parking lot, reported CBS 11.
According to the unidentified victim, she was driving in the wrong direction when she decided to pull into a parking lot, blocking Shuffield as he tried to leave. He then got out of his truck and told her to move out of his way.
In a video from the incident, Shuffield and the victim argue until Shuffield eventually pulls out what appears to be a gun and holds it behind his back. As the dispute escalates, Shuffield smacks the woman's cell phone out of her hand when she tried to call 911.
The victim retaliated by slapping Shuffield in the face.
Shuffield then took a fighting stance and punched the victim in the face. He then hit her repeatedly in the face and upper body at least four more times. The woman then bent over as Shuffield kicked her phone to the ground.
Police were called to the scene, where they arrested Shuffield for aggravated assault causing injury, interference with an emergency call and public intoxication.
On Thursday, the victim spoke with CBS 11 and said she had to go to the hospital to treat a ruptured eardrum and a possible concussion she suffered from the attack.
Braxton Martin, owner of the High and Tight Barbershop and Speakeasy, said that Shuffield was fired Thursday afternoon.
"From the video itself it shows an aggravated assault to our eyes. That is something needs to be dealt with quickly and swiftly and that's what we're trying to do and make sure it's handled properly," said Martin.
Shuffield remains in jail and has a bond set at $2,000.
The victim has since hired civil rights attorney Lee Merritt, who told Dallas Morning News that Shuffield should face felony assault and hate-crime charges because he shouted racist language before the attack.
"Our office is speaking with the Dallas Police Department and the Dallas County District Attorney's office to ensure all appropriate charges are pursued including felony assault, firearm and hate crime related charges," the statement read.