2 Years After Kim Kardashian's Robbery At Gun Point, There's A New Bling Ring In Town
Suspects have been arrested in connection to more celeb home invasions.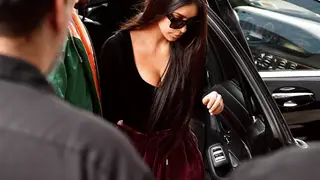 It's been exactly two years since Kim Kardashian's infamous Parisian heist and it has truly proved that no one is safe in these streets, least of all people who show off their money on the internet.
On October 3, 2016, Kim K was held at gunpoint at the No Address Hotel during Paris Fashion Week. Five masked men tied Kim up and stole million of dollars in jewlery, including a $4 million ring gifted to her by hubby, Kanye West. The intial fear that plagued the reality TV queen left her surrounded daily by bodyguards and vowing to stop flaunting her wealth on social media. She even opted for a  'poor' aesthetic on Instagram. Now, Kim Kardashian is back to her regular self, flaunting her bling actively on social media, and making public appearances with her kids North, Saint, and Chicago West in tow.
Scroll down to see the celebrities who have been victims of robberies and others who we think would be prime targets for a robbery in Paris, LA or just about anywhere else. 
Rihanna, Christina Milian and Robert Woods

Four suspects have been arrested in the connection of using social media to plan the Hollywood bugalries of Rihanna, Christina Milian, Robert Woods, and Yasiel Puig. According to The Cut, police arrested 19-year-old Jshawne Lamon Daniels, 19-year-old Tyress Lavon Williams, and 18-year-old Damaji Corey Hall, and Hall's mother, 34-year-old Ashle Jennifer Hall, after Robert Woods home was broken into on September 27. When the LAPD serched their home, they found jewelery, $50,000 in cash and the names of other potential victims, like LeBron James and Viola Davis. 

Floyd Mayweather

Talking about prime targets, our top pick to most likely be robbed is world boxing champ Floyd "Money" Mayweather. The now-retired boxer is notorious for being flashy, whether it's counting stacks of cash in his living room like a scene from Narcos or posting an uncashed $100,000,000 check from his fighting days to IG. He may be untouchable in the ring, but on the 'gram he might as well wear a sign that says "Rob Me." (UPDATE: Floyd got robbed.)

Gucci Mane and Keyshia Ka'oir

They are not only couple goals, but they are bling goals, too! The Wopsters love showing their affection for one another with shiny gifts. Just take the 25-carat rock Gucci proposed to his fiancée with and the pricey three-stone stunner she gave him in return. However, all their flossin' could leave them susceptible to theft.

Jennifer Lopez

J.Lo's out here walking around with an extravagant diamond-and-platinum necklace courtesy of new bae Drake. While it's nice to be spoiled, she's also toting $100k around her neck that could easily be snatched. Not mention all the coins she's racked up with a Las Vegas residency — $350,000 per show to be exact. Jenny, just make sure to leave the money and jewels in a safe somewhere before you hit the block. 

EJ and Elisa Johnson

Watch these siblings shop till they drop on E!'s Rich Kids of Beverly Hills and spin-off series EJNYC. With a father like basketball legend Magic Johnson, money's no object. These two regularly travel the world flashing their designer loot, but a little discretion could keep them safe from fashion savvy bandits.

Mariah Carey

Extra is her middle name. Mariah is almost always draped in sparkles, lingerie and gems — usually while lounging in her boudoir, a Jacuzzi or under a Christmas tree somewhere. Diamonds are a girl's best friend, so you can't blame her for separation anxiety when it comes to her jewel collection. Mariah, keep being your fantastically extra self, just watch out for those literally trying to steal your joy.

DJ Khaled

The DJ might want to watch out for fans after more than just his keys. He loves boasting about his success while showing off the fruits of his labor, but his serious Snapchat addiction lets followers in to his home and keeps them up to date with his location, which could be an invitation for thieves. Kim made the same mistake of documenting her every move, too. Stay safe out there and beware of "They."

Black Youngsta

Rappers are known to be outlandish, but Blac Youngsta has taken it to another level. Besides the typical photos of big chains and fancy cars, he's always carrying a big stack of cash with him and offering to give money away. He recently offered a store employee $10,000 to quit her job. He's basically robbing himself…of a savings account, that is.