Report: Man Who Fatally Choked Jordan Neely To Be Charged
Daniel Penny, a Marine veteran, placed the homeless man in chokehold on a NYC train, igniting widespread protests when he wasn't arrested.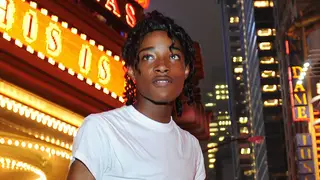 The Marine Corps veteran who applied a fatal chokehold to Jordan Neely, a 30-year-old homeless man, on a New York City subway train is expected to be charged and surrender to authorities on Friday (May 12), The New York Times reports, citing two unnamed sources.
Cell phone video shows Daniel Penny, 24, on the train car's floor with his arms wrapped around the neck of Neely, who suffered from mentally illness, on May 1. Witnesses said Neely shouted at passengers, but there was no immediate evidence that Neely physically attacked any train passengers.
The Manhattan District Attorney's Office decided to charge Penny without presenting the case to a grand jury at this time, according to WNBC.
"We can confirm that Daniel Penny will be arrested on a charge of Manslaughter in the Second Degree. We cannot provide any additional information until he has been arraigned in Manhattan Criminal Court, which we expect to take place tomorrow," Doug Cohen, a spokesman for the Manhattan district attorney's office, said in a statement sent to The Post.
Public opinion pressured district Attorney Alvin Bragg to file charges. The video sparked demonstrations in subway stations and streets. News that the police questioned but released Penny early in their investigation without charges added fuel to the outrage.
Penny's lawyers said he was acting in self-defense while protecting other passengers from Neely's allegedly aggressive behavior. They called Neely's death – ruled by the medical examiner a homicide caused by compression of the neck – a "tragic incident."
But attorneys for Neely's family and advocates for the homeless called Penny's position "a character assassination, and a clear example of why he believed he was entitled to take Jordan's life."
Juan Alberto Vazquez, who recorded the incident, previously told The Times that Neely began screaming when he entered the subway car, telling passengers that he was hungry and thirsty before throwing his jacket on the ground.
"'I'm tired already. I don't care if I go to jail and get locked up. I'm ready to die,'" Vazquez recalled Neely's words.
Investigators said Neely and Penny were in a verbal dispute that escalated into a physical altercation.
Lawyers for Neely's family told The Times that a witness told them that Penny came up behind Neely and grabbed him and demanded justice.
Neely was a Michael Jackson impersonator who would dress up like the late king of pop and thrill audiences on the subways. According to The New York Post, Neely suffered from PTSD and depression. The Daily News reported that he was arrested 42 times over the past decade, including punching a female train passenger, 67, in the face in November 2021.