Why Black Unemployment Fell To A Record Low In Recent Jobs Report
Historically, the Black unemployment rate has been twice that of White Americans.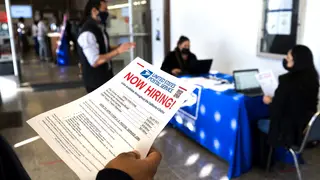 President Joe Biden credited his economic agenda for "a good jobs report" released Friday (April 7) that showed a near 50-year low national unemployment rate of 3.5 percent, including a record low rate for African American workers.
The Black unemployment rate declined to 5 percent last month from 5.7 percent in February, according to the Bureau of Labor Statistics report. White unemployment was 3.2 percent.
"Thanks to the policies we have put in place, the recovery is creating good jobs that you can raise a family on, which is pulling more Americans into the labor force," Biden stated.
Historically, the Black unemployment rate has been twice the White unemployment rate since 1972 when employment data was disaggregated by race, according to the Center for American Progress. This 2-to-1 gap has largely remained steady for decades, which the think tank blames on structural racism.
An overall increase in the demand for labor after the Covid-19 pandemic, fueled by federal stimulus, helped to reduce unemployment for workers across the board, The Washington Post reported. That's a starting point to understanding why the Black unemployment rate has reached a historic low level.
At the same time, the proportion of Black workers who either have a job or are seeking one has exceeded the labor force participation rate for White workers in recent years.
"This is a victory. It's not only that Black unemployment is low. It's also that, for the first time, a higher share of Black people are working than White people," Howard University professor and economist William Spriggs told The Post.
Black workers have also benefited from the recent surge of jobs in the service-sector, where Black Americans disproportionately find jobs. In March, the health care, social services and restaurant industries each added about 50,000 jobs.
Another factor stems from the pandemic, when companies adapted to the lockdown by creating remote jobs for workers who were stuck at home. According to The Post, this transition to remote work enabled companies to seek workers living outside of their brick and mortar locations. This opened the door for businesses that valued diversity to hire more Black workers.