Report Says High Unemployment Rates For Black Men Cost The Economy $50 Billion
This contributes to poverty in the Black community.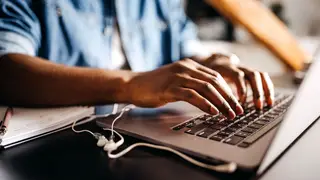 High unemployment rates for Black men cost the U.S. economy $50 billion a year, according to a new study from the Center for Economic and Policy Research.
"If we could close the white-Black EPOP(employment-to-population ratio) jobs gap, we could add about $30 billion annually to Black communities and make a significant reduction in Black poverty," the study's author Algernon Austin wrote.
Another estimated $20 billion is lost from the disproportionate incarceration and high mortality rate of working-age Black men.
"Prime-age Black men who are incarcerated or deceased still have children, family members, and partners who, under different circumstances, could benefit from their financial support," Austin explained. "When one takes into account the incarceration and mortality rates of Black men, the EPOP jobs gap jumps to four times the unemployment rate jobs gap, and the income deficit approaches $50 billion a year."
Even in a labor market in which a record number of workers have quit their jobs, Black men are unlikely to see a significant increase in hiring. Austin said there's never a period of low unemployment for Black men. Their collective situation is better characterized as high, very high or extremely high.
Hiring discrimination plays a role in the high unemployment rate of Black men, the report stated. Business Insider pointed to decades of sociological experiments that reveal systemic discrimination from entry-level jobs to those requiring college degrees.
"Black job-seekers face discrimination even when they have an elite college degree, such as one from Harvard or Stanford," S. Michael Gaddis, a UCLA sociologist who studies employment discrimination, told Insider.
Austin's study also underscored racial bias in the criminal justice system, as well as systemic racism in education, health care and other areas that contribute to higher mortality rates for Black men.

The study comes as U.S. jobs numbers were released on Friday (Jan. 7) showing the national unemployment rate dropping to 3.9 percent in signs of a recovering economy, but increasing to 7.1 percent for Black workers, according to the Bureau of Labor Statistics.