Oprah Winfrey Donates $3M To COVID-19 Relief In South Los Angeles
The funding will go to expand efforts towards COVID-19 testing, scholarships, and fresh food for local residents.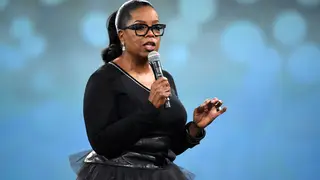 Oprah Winfrey is going above and beyond to support those who continue to be in need amid the coronavirus pandemic. Now that Los Angeles is seeing the largest number of newly confirmed cases and hospitalizations, the 66-year old media mogul is stepping in to help.
On behalf of her Oprah Winfrey Charitable Foundation, the media mogul presented a donation of $3 million to South LA Forward, a coalition of three Los Angeles based organizations:  SoLa I Can Foundation, Watts Healthcare Corporation, and SEE-LA for their collective COVID-19 relief efforts.
Winfrey announced the news on her Twitter on Wednesday (July 15). 
"As I continue to seek out ways to support underserved communities, I was struck by the unique multi-layered approach to effect real change to the systematic barriers of access to healthy food, quality health care and educational opportunities," Winfrey said in a statement. 
According to Oprah Magazine, South LA Forward's mission is to provide 200 tons of fresh food to feed 80,000 Angelenos and provide 200 scholarships to those that have lost their jobs due to the ongoing pandemic. 
South LA Forward is also aiming to expand COVID-19 testing and primary care for South LA residents.