Prayers Up: Carrie Fisher Fighting for Her Life After Massive Heart Attack
The actress is known for playing Princess Leia in Star Wars.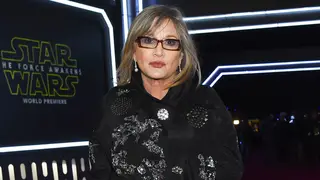 The 60-year-old American actress who is best known for her role as Princess Leia in the original, and most recent, Star Wars films suffered a heart attack, according to TMZ.
The actress was flying from London to LAX when she went into cardiac arrest. The incident occured 15 minutes before the plane landed. When flight attendants asked if anyone on the flight was a medical professional, an EMT on the flight stepped forward and began administering life-saving measures. The plane landed at approximately noon PST where Fisher was quickly rushed to a nearby hospital.
She is reportedly fighting for her life. Our thoughts and prayers are with Carrie.
Todd Fisher, Carrie's brother, told the Associated Press that his sister had been stabilized at the hospital, where she is currently surrounded by her daughter, Billie Lourd, and her beloved French bulldog, Gary.
Check out the video above of Lupita Nyong'o receiving a Tony nomination. Lupita starred with Carrie in last year's Star Wars: The Force Awakens.
Take a look at some of Carrie's colleagues and supporters sending over their prayers and positive vibes in the tweets below.