New Music Monday: Tyler, The Creator, Larry June & Alchemist And Chapel Hart Start Your Week With A Fresh Batch Of New Tunes
Tune in every Monday to catch songs you need to add to your rotation.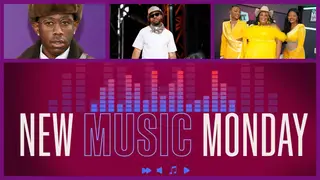 Keeping up with the latest music releases can be a daunting task. As soon as you've discovered a new favorite song, album, or artist, there's always something new to catch up on. It's an exciting time to be a music enthusiast, but it can also be overwhelming.
Fortunately, BET has got you covered with our weekly feature, "New Music Mondays," where we showcase the latest artists, sounds, and trends in hip-hop, R&B, Afrobeat, house, and more. We curate an eclectic mix of established and up-and-coming musicians, so you'll find a variety of familiar and fresh sounds.
Without further ado, we present ten new records that you should add to your playlist this week. Our lineup features the likes of Tyler, The Creator, Larry June & Alchemist, and Chapel Hart, amongst others. So sit back, relax, and enjoy the latest beats that will undoubtedly make your week more enjoyable.
Tyler, The Creator (feat. A$AP Rocky): "WHARF TALK"

Tyler, The Creator released his new project CALL ME IF YOU GET LOST: The Estate Sale on Friday (March 31) with the strong standout "WHARF TALK," featuring frequent collaborator A$AP Rocky.

Larry June & Alchemist (feat. Slum Village): "Orange Village"

Larry June and Alchemist released their highly-anticipated joint album The Great Escape on Friday with one of the standouts being "Orange Village," featuring legendary Detroit hip-hop group Slum Village.

Chapel Hart: "Welcome to Fist City"

Mississippi country trio Chapel Hart released their newest single "Welcome to Fist City" on Friday while also revealing that their upcoming album Glory Days is coming out on May 19.

Khalid: "Softest Touch"

Singer Khalid released his smooth new single "Softest Touch" on Friday. It's certain to give you an inspirational start to your week.

Jhené Aiko: "calm & patient"

Jhené Aiko releases a serene new melody "calm & patient," which comes on the heels of her posting the song on her Instagram Reels.

HDBeenDope: "Locked In"

Brooklyn's HDBeenDope dropped his latest single "Locked In" on Friday – produced by Dizzy Banko.

Young Quez: "Run It Up"

Arkansas' Young Quez released a new single and video "Run It Up" on Friday.

Slimeroni: "Trust Issues"

In her second solo release of the year, Slimeroni releases her new single/video for "Trust Issues."

DameDot: "MANDATORY"

Detroit's DameDot has been turning up in his city and releases his new album Made Man and the strong effort "MANDATORY."

Bloody Civilian: "I Don't Like You"

Nigerian singer-producer Bloody Civilian releases a new single "I Don't Like You" via Def Jam Recordings/0207 Def Jam UK, which is off her upcoming EP Anger Management.

Bonus Heat #UpAndComing: Check out OG Vern's brand new song/video "Flying From Florin"

Ohio rapper OG Vern releases his newest song and video for "Flying From Florin." The Jay Vega-produced joint is off of his upcoming album Verge of Disaster.