Mark Curry: 'I Should Play Richard Pryor'
Hangin' With Mr. Cooper Star also wants to host a late night talk show.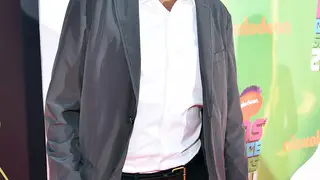 As far as the comedy game goes, few people have put in as many years as Mark Curry. From Def Comedy Jam to his own standup specials on HBO and Comedy Central, the Hangin' With Mr. Cooper star has been making people laugh for almost three decades. And for his next move, Curry wants to take his talents to late night to fill a void that was left when Arsenio Hall was taken off the air.
In an exclusive interview with BET.com, the Oakland-born funnyman talks about why late night television needs him, who he does (and does not) think should play Richard Pryor in the long rumored biopic and why he stays away from most comedy clubs these days.
There are a lot of up-and-coming comics doing their thing. Who's your favorite of the young talent?
Um, me. I only listen to myself, I hate to say. I don't got time to listen to nobody else. There's a lot of guys out there but I only listen to myself. Me! [Laughs]

In all your years in the game, who is the best comic you've ever seen bomb?
On the Tom Joyner Cruise. Ralphie May. He did a Black soul cruise and he came out and said something [to the mostly Black audience] like, "What y'all doin' up in here?" and everyone was like, "Okay!," and I had to go up and rescue him.
I know you're still active on the stand-up scene. Any specials or big projects you want to announce?
I'm about to do a special. I don't know what network, but I'm about to do a special. Let it be heard. Just to let people know where I been. I been on the road, writing another show. I want to come back and do talk. I want to do late night talk the right way. Arsenio ain't there anymore and the late night talk competition is weak. All them dudes is weak. I don't even know who they are. Weirdos, and I don't even care. I want to bring real fun back to late night where a real comedian is doing it. You got all these dudes filling in just cause there ain't nobody else to fill in. It's ridiculous. My first guest would be Bill Cosby. That's my friend. First night, first show, let him do a 20 minute set. No interview.
Are you still hitting the local comedy spots regularly?
I try to stay away because people steal my material so much. But I do go up to all the spots. I do "Trippin' on Tuesdays" [at the Comedy Store], I do all the spots just to keep me in the game. I go to the ghetto, hard, raw spots that don't nobody even know. Those are the ones I'm always the last comic, and they'll heckle you. It's just hard and raw. I don't go to those spots like Laugh Factory or places that you say one thing and everybody laughs automatically like, "Whoa, he's crazy. Wow."
There have been a lot of rumors swirling about a Richard Pryor biopic. Who do you think should play him?
Me. I think I'm the only one that opened up for Richard Pryor. I opened up for Richard Pryor in 1992. I had a conversation with him. All those other comedians can say what they want about what they did, but I opened up for the man. Paul Mooney and I are probably the only ones that can say that. Who better than me? Nick Cannon? Come on. They just said no to him. Richard Pryor's son called him on the phone, Nick Cannon was talking shit, and he said, "F--k you. You're not doing it."

When you opened up for him did he give you any game that you still use today?
Yes he did. That was the first thing I asked him. I didn't even say hi, I asked him for the game. He gave me game that I'll never share, but I can say that Richard Pryor taught me how to write.

BET.com is your #1 source for Black celebrity news, photos, exclusive videos and all the latest in the world of hip hop and R&B music.
(Photo: Alberto E. Rodriguez/Getty Images For Nickelodeon)