Slavery Is On The Ballot In 5 States Despite Being Abolished More Than 150 Years Ago
Language in the constitutions of multiple states still permits slavery and involuntary servitude as criminal punishments, but a movement wants to change that.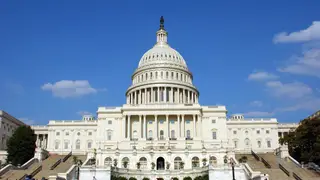 Voters in five states will decide in November ballots whether to close a loophole in their state constitutions that allow a form of slavery to continue today–more than 150 years since Emancipation.
The Associated Press reports that on Election Day (Nov. 8) voters in Alabama, Louisiana, Oregon, Tennessee and Vermont will vote on whether to close the prison exception to slavery in their state. Currently, constitutions in nearly 20 states include language that permit slavery and involuntary servitude as criminal punishments.
The 13th Amendment, ratified by Congress on Dec. 6, 1865 states: "Neither slavery nor involuntary servitude, except as a punishment for crime whereof the party shall have been duly convicted, shall exist within the United States, or any place subject to their jurisdiction."
Civil rights advocates say the exception for incarcerated people is tantamount to slave labor, in which prison workers today typically earn pennies for their work.
"From the moment they enter the prison gates, incarcerated people lose the right to refuse to work," according to the ACLU. "This is because the 13th Amendment to the U.S. Constitution, which protects against slavery and involuntary servitude, explicitly excludes from its reach those held in confinement due to a criminal conviction."
Historically, the incarceration loophole was used in former Confederate states after the Civil War to provide a source of cheap labor after slavey ended. Blacks people were targeted for incarceration for minor infractions of the law or on bogus charges to fuel the system.
Amending state constitutions can be complicated. In Tennessee, Sen. Raumesh Akbari is one of the lawmakers who has spearheaded the effort, according to the AP. She first proposed the change in 2019 in a Republican-led General Assembly that had to pass it twice, first by a majority vote in a two-year legislative session and later by at least two-thirds in the next session.
Akbari also worked with the state Department of Correction to make certain that her proposal wouldn't inadvertently ban voluntary inmate labor.
"We understand that those who are incarcerated cannot be forced to work without pay, but we should not create a situation where they won't be able to work at all," Akbari told the AP.
Under current conditions, inmates who refuse to work could face a range of punishments, from losing phone privileges to solitary confinement. Many who choose to work typically earn pennies on the dollar.
About two out of three state and federal prison inmates work jobs, ranging from cooks and janitors to painters and plumbers, and earn an average minimum wage of 52 cents an hour or less, according to an ACLU report titled "Captive Labor: Exploitation of Incarcerated Workers."
The report noted, "Incarcerated workers produce more than $2 billion a year in goods and commodities and over $9 billion a year in services for the maintenance of the prisons where they are warehoused."
Amendments to close the loophole typically don't include language to reform the prison pay system. The ACLU calls for inmate reforms that include fair wages and training in transferable skills.
Meanwhile, a movement is underway to amend the U.S. Constitution. On Juneteenth, now in its second year as a federal holiday commemorating the freedom of enslaved Black people, lawmakers in Washington called for a change to the language of the 13th Amendment. They're urging congressional colleagues to put an end to the loophole that disproportionately affects Black inmates.