Kyrie Irving Can Play For Nets During Home Games With Change In NYC Vaccine Mandate
The star point guard hasn't played a home game for the Nets in months, but will now return against the Charlotte Hornets.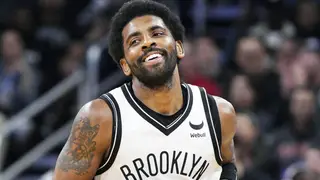 Kyrie Irving is set to make his return to the Barclays Center hardwood on Sunday (March 27) as New York City is altering its COVID-19 vaccine requirements, which will allow the star point guard to play at home on Sunday (March 27) against the Charlotte Hornets.
During a press conference at Citi Field on Thursday, Mayor Eric Adams announced that performers and athletes who play for New York's home teams will be exempt from the city's vaccination mandate for private businesses.
"This is about putting New York city-based performers on a level playing field," Adams said of his new altered mandate, according to CBS Sports. "Day 1 when I was mayor, I looked at the rule that stated hometown players had an unfair disadvantage for those who were coming to visit. And immediately I felt we needed to look at that, but my medical professionals said, 'Eric, we're at a different place. We have to wait until we're at a place where we're at a low area and we can reexamine some of the mandates.' We're here today."
Adams previously stated that "it would send the wrong message" to give Irving an exemption when virtually everyone who works in the Big Apple is subject to the same mandate as unvaccinated city workers have lost their jobs.
The move will allow Irving, who has played in only 20 games for the Brooklyn Nets this season (all on the road), to play in front of his home crowd. He's averaged 28.5 points, 5.5 assists and 4.6 rebounds per game in that stretch. Brooklyn is currently 38-35 and eighth in the Eastern Conference.
The NBA and NBA Players Association released a joint statement shortly after Adams' announcement:
"The NBA and NBPA have achieved a 97% vaccination and 75% booster rate among players, required both for league staff, team staff, and referees, and will continue to be strong advocates for vaccination and boosters. With today's announcement, we support the Mayor's determination that the old rules treating hometown and visiting players differently no longer made sense, particularly because unvaccinated NBA players will continue to test daily. We applaud the Mayor for listening to the concerns of our New York teams, players, fans and communities and for leveling the playing field for home teams and their opponents."