Mayor: Chicago School Closings Tough But Necessary
Mayor Rahm Emanuel says the decision to close 54 Chicago public schools was not easy but was necessary to avoid trapping kids in failing schools.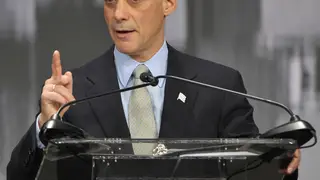 CHICAGO (AP) — Mayor Rahm Emanuel responded Saturday to widespread criticism of his plan to close 54 Chicago Public Schools, saying he wasn't interested in doing what was politically easy and that the pain of the closings doesn't compare to the anguish of "trapping" kids in failing schools.
"If we don't make these changes, we haven't lived up to our responsibility as adults to the children of the city of Chicago," Emanuel said in his first public statements since Thursday's announcement. "And I did not run for office to shirk my responsibility."
Emanuel was out of town when his schools chief, Barbara Byrd-Bennett, announced the closings. It is the largest number of CPS schools to be shuttered in a single year, and officials say it will affect some 30,000 students in the nation's third-largest school district.
The long-awaited announcement angered many parents, teachers, lawmakers and community members, who say it disproportionately affects minority neighborhoods. Opponents also argue the closings will endanger children who may have to cross gang boundaries to get to a new school, and will eliminate facilities that are considered anchors in some struggling communities.
Opponents protested outside of several schools on Friday, and the Chicago Teachers Union and other organizations are planning a march Wednesday in downtown Chicago.
Parent Yolanda Harris called the plan "unfair" and said she was starting to second-guess her decision to vote for Emanuel for mayor. Her four children attend Dumas Technology Academy, which is slated to be closed.
"It's not to say (Emanuel) is a bad person, but I'm saying I don't agree with a lot of the decisions he's making," said Harris, who protested outside the South Side school Friday with other parents. "He's making big mistakes."
The mayor and Byrd-Bennett say the closings are necessary to address a $1 billion budget shortfall and because many CPS schools are half-empty, failing academically and in need of repair. They say the plan will save the district $560 million over 10 years in capital costs and an additional $43 million per year in operating costs.
Emanuel said Saturday the closings will allow the district to invest money in improving the remaining schools. And while he knows the closings will be difficult, he said every child deserves a high-quality education, regardless of where they live.
"You do not get a repeat on this," he said.
The vast majority of the 54 schools are in overwhelmingly black neighborhoods that have lost residents to the suburbs and elsewhere in recent years. Chicago's black population dropped 17 percent in the last census. The other few schools are majority Hispanic or mixed black and Hispanic. Overall, 91 percent of students in the district's 681 schools are minorities.
(Photo: Barry Brecheisen/Getty Images for Nike)