Kendrick Lamar Buys Modestly Priced Home Outside of L.A.
TDE rapper spends $523,500 on a 4-bedroom Southern California residence.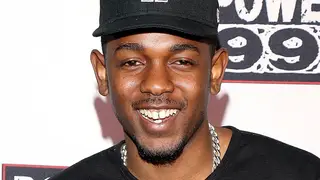 Kendrick Lamar has a new place to call home.
The TDE rapper just purchased a residence in Eastvale, Calif., and he didn't exactly splurge on the price. According to the Huffington Post, the 26-year-old paid $523,500 for the 4-bedroom home. 
A modest price tag isn't the only thing unconventional about Lamar's new digs, so is the location. Eastvale isn't well known like the Beverly Hills, Brentwood and Calabasas neighborhoods celebrities tend to flock to. The city sits a full hour outside of Los Angeles, with a population of less than 60,000 people.  
As for what successful rappers typically spend, Drake, for example, dropped $9 million on his Southern California mansion, Tyga spent $6.5 million for his house, and Dr. Dre recently shelled out $40 million on an estate in Brentwood, Calif. 
Even though Lamar's 7,800-square-foot home is quaint for a star of his stature (there is no visible tennis court, Olympic-size swimming pool, or garage full of flashy cars on display), that doesn't mean he couldn't afford to get something with more amenities. Forbes magazine reported the Compton rapper's net worth at $9 million for 2013.  
Get ready for the BET Experience, featuring Mary J. Blige, Maxwell, Jill Scott, A$AP Rocky, Rick Ross and many more. Click here for more details and info on how to purchase tickets.
BET.com is your #1 source for Black celebrity news, photos, exclusive videos and all the latest in the world of hip hop and R&B music.
(Photo: Bill McCay/WireImage)