Commentary: When Rap Goes Wrong
Jay-Z, Rick Ross and LL Cool J rhymed their way into controversy when their songs crossed the line.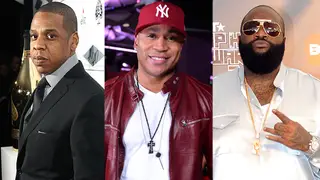 Jay-Z's got 99 problems and his latest rap happens to be one.  In his "Open Letter," released last week, Jay-Z addresses the recent controversy over his and wife Beyonce's trip to Cuba.  Conservative pundits and lawmakers were quick to attack the couple, accusing them of taking the trip without getting approval from the Treasury Department. Doing so, violates federal restrictions which bar civilian travel to the communist country.
In the song, Jay-Z brags, "I turned Havana into Atlanta. Boy from the hood. I got White House clearance. Obama said, 'Chill, you gonna get me impeached. You don't need this sh*t anyway. Chill with me on the beach.'"
Within days, hundreds of thousands of fans had downloaded the song and the controversy began to brew.
In response, the White House press corps had questions for Jay; not Jay-Z the rapper but White House spokesman Jay Carney. Answering questions about whether President Obama gave Jay-Z clearance for the trip, Carney said, "It's a song. The president did not communicate with Jay-Z over this trip." Carney stressed that the Department of Treasury offers and gives licenses for travel and the White House had nothing to do with this matter.
The problem with the song is not only its lack of accuracy, it's what appears to be a flagrant lack of tact. It may be true that as far as rappers go, Jay-Z has enjoyed unparalleled access to the commander in chief. But it is also true that the privilege of access comes with some unspoken rules. If the first rule is "Don't lie on the president," then the second one must be, "Don't brag about your lie in a song."
Whatever closeness the rapper once shared with the president will now be looked at with added scrutiny. In short, Jay-Z's on the radar as a trouble-maker for the White House. Congratulations J, you just blew it.
We can't talk about Jay-Z without also addressing Rick Ross' latest poetic injustice. In his song "U.O.E.N.O.," the rapper brags about drugging a woman, then having his way with her without her knowledge. The scenario played out in song when he said, "Put a molly in her Champagne, she ain't even know it. I took her home and I enjoyed that, she ain't even know it."
Ross issued an apology and called it one of his biggest mistakes and regrets. But his apology may have come too late. After protests from women's rights groups, Reebok athletic company decided to end Ross' endorsement deal. He's learned a valuable lesson: promote music with hurtful lyrics and your bank account may be hurt in the process.
Rapper-actor LL Cool J is feeling backlash from a misguided duet he did with country star Brad Paisley. In "Accidental Racist," LL took part in a song that was meant to describe the conflict between Southern pride and Southern blame. But it was abruptly panned by critics for turning a blind eye to the horror and the complexity of slavery.
In the song, LL raps, "If you don't judge my doo rag, I won't judge your red flag. And if you don't judge my gold chains, I'll forget the iron chains."
Really LL? Is that all it takes for you to forget centuries of institutionalized, forcible human trafficking and enslavement? Unfortunately, your light-hearted, odd couple, buddy tune is misinformed, over-simplistic and insensitive. How can people currently living with the harmful byproducts of slavery forget about something whose effects stare them in the face every day? 
In his hit song "I Need Love," LL Cool J penned words that each of these rappers should be guided by. He writes, "When I'm alone in my room sometimes, I stare at the wall and in the back of my mind I hear my conscience call."
My hope is that these talented rappers will take stock of how they've misused their gifts. An art form that is meant to bring joy to the masses can also bring a whole lot of trouble and needless controversy.
The opinions expressed here do not necessarily reflect those of BET Networks.
BET National News - Keep up to date with breaking news stories from around the nation, including headlines from the hip hop and entertainment world. Click here to subscribe to our newsletter. 
(Photos from left: Neilson Barnard/Getty Images, Mark Davis/Getty Images for BET, Chris McKay/Getty Images)