Hip Hop Awards 2022: The Coldest Bars So Far from 2021 'Lyricist of the Year' Winner J. Cole
The North Carolina emcee has contributed some powerful lines in rap for nearly a decade.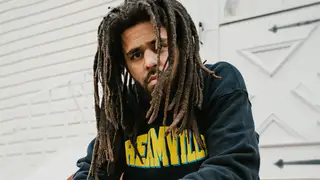 BET's Hip Hop Award's 2021 "Lyricist of the Year"  winner J. Cole is one of the most revered rappers of our generation. Accolades aside, Cole's cultural awareness, subject matter, and delivery puts him at the top of the class.
The North Carolina native came up with several of the rap industry's sharpest wordsmiths, the likes of Benny the Butcher, Drake, Lil Baby, Nas, and Houston hottie, Megan Thee Stallion. In honor of his win at last year's ceremony, we're looking at some of Cole's coldest rap lyrics so far.
"Brackets" / KOD

Even Cole agrees that this is one of his toughest lines.

Stand Out Bar: "One thing about the men that's controlling the pen that write history, they always seem to white-out they sins."

"Runaway" / Born Sinner

Cole isn't afraid to look in the mirror for inspiration; it's evident in songs like "Runaway" that tackle colorism and modern-day mental chains.

Stand Out Bar: "If I follow my heart to save myself/Could I run away from 50 mil like Dave Chappelle?"

"Love Yourz " / Forest Hills Drive

If the truth hurts, Cole is the punisher in this 2014 Grammy-nominated number one project.

Stand Out Bar: "Always gon' be a bigger house somewhere, but n-gga feel me/Long as the people in that motherf—ker love you dearly/Always gon' be a whip that's better than the one you got/Always gon' be some clothes/That's fresher than the ones you rock/Always gon' be a b-tch that's badder out there on the tours/But you ain't never gon' be happy till you love yours"