Avid R. Kelly Fan Who Made Videos Supporting Him Charged With Threatening Federal Prosecutors
Christopher Gunn is accused of trying to entice viewers of his video to attack the U.S. Attorney's Office in Brooklyn.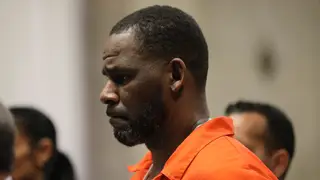 An R. Kelly fan, who was apparently extreme in his support, is facing charges after threatening to "storm" the U.S. Attorney's office in Brooklyn, N.Y., in a YouTube video as the embattled R&B singer waits for federal sentencing on multiple charges.
According to a federal affidavit, Christopher Gunn, 39, whose online name is reportedly "DeBoSki," is a superfan of Kelly's and has posted several videos on YouTube defending him. In an Oct. 4, 2021, video he reportedly said, "I want y'all to get real familiar with this building," apparently threatening occupants of the building, saying, "if Kellz goes down, everybody's going down."
Gunn was allegedly pointing at an image of the U.S. Attorney's Office for the Eastern District of New York in Brooklyn. According to prosecutors, he described the office, saying: "That building is located right outside the courthouse where R. Kelly was being prosecuted at. It's the first building on the corner That is the United States federal prosecution office. That's where they at [sic]. That's where they work at… We're going to storm they office [sic]."
He reportedly named three prosecutors he was targeting.
Gunn, who allegedly attended at least one day of Kelly's trial last year, is also accused of posting a clip from the 1991 movie Boyz N The Hood in which four of the movie's characters jumped into a car with the intention of staging a revenge shooting. Prosecutors claim Gunn said in the video, "[I]f you ain't got the stomach for the s**t we 'bout to do, I'm asking that you just bail out."
Last week, he was allegedly asking Kelly fans to attend the sentencing hearing, "I have a spot for us allllll to link during the trial, see you there." Gunn was supposedly accepting payments on CashApp from people who wrote comments like "30 rounds.. free R kelly" and "30 rounds on the haters," the Chicago Tribune reports. The "rounds" are believed to be referring to firearm ammunition.

Gunn, who lives in Bollinbrook, Ill., was  arrested in Chicago on Saturday (June 25) and charged with making threats involving serious bodily injury or death. He appeared in federal court there on Monday (June 27). A judge ordered him held pending a detention hearing. Prosecutors are requesting that he be moved to New York to face charges.
Kelly, 55, was found guilty of nine federal racketeering and sex trafficking counts including sex with minors. He is facing life in prison and is scheduled to be sentenced Wednesday (June 29).