Marshawn Lynch Joins Seattle Kraken Ownership Group
Beast Mode's bringing his talents to a different sport.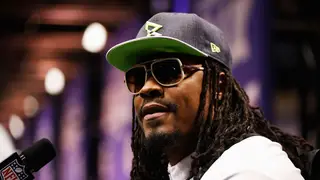 Marshawn Lynch, whose legend with Seattle sports became cemented when he helped the Seahawks to a Super Bowl victory in 2013, is now venturing from the gridiron to the hockey rink.
On Monday (April 18), Lynch officially joined the Seattle Kraken ownership group as a minority owner in the NHL team, joining Seattle-based rapper Macklemore and others in the partnership.
"I've been a part of a lot of things, but this is something I never would have imagined," the 35-year-old former running back wrote on Twitter. "As a young hyena I always dreamed of playing on a professional team but owning one is something special."
In a video shared by Lynch he's seen ridding a Zamboni – the machine that smooths the ice for hockey play, adding some much needed smiles for the team's fans as the Kraken currently have the third-worst point total in the NHL in only their second year as a franchise.
According to Field Gulls, Lynch will also be in a role befitting his charitable endeavors and will be working in a role with the team's "Hockey is for Everyone" initiative.
"As I look back on some of my accomplishments -- I retired before I was 30 and now being an owner of a professional club at the age of 35 -- I'm gonna continue to count my blessings," Lynch continued. "Being a part of the Seattle Kraken is something big for me it gives me another chance to get a ring after helping bring the first NFL one to the city. And if you thought I was goin somewhere, nah Seattle, I'm here! Stand up!!!!"