This Weekend: Here's What to Watch, Listen to & Experience
Spend time off with Nas, the cast of 'Atlanta,' and Tiwa Savage.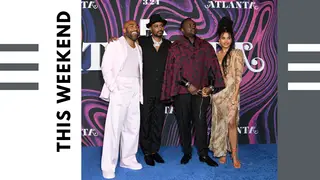 When it comes to content, it's easy for us to stick to what we know or want that old thing back. But for a rare few, being a true content connoisseur is about being on top of what's hot, what's trending, and what's next. Luckily, this new guide is everything for your music, literary, film, TV, and live experiences needs.
Each week, yours truly, Kevin L. Clark, will be your go-to advocate, spotlighting all those content cravings worth enjoying.
You're now tuned into This Weekend, a weekly round-up for content culture lovers and those who love to avoid FOMO.
For Friday, Mar. 25, this week's episode finds us with some freshly-discovered treasures for you, your family, and friends to get into + share with others. It contains a healthy dose of sonic vibes, this month's BET Amplified artist to know, and, of course, something streaming that's a feast for the eyes.
So bon appétit to all those true savants who are purveyors of content culture out there.
---
For Listeners Only:
On the eve of the Grammy season, Nas and Hit-Boy continue their winning streak with the goal of taking home Best Rap Album at this year's ceremony. To go in deeper in his trick bag, the duo delivers "Wave Gods," which features A$AP Rocky and DJ Premier, and is a standout number from Magic, another installment in the critically acclaimed King's Disease series. The duo explores how their lives could have turned out differently while riding for the still-incarcerated Max B, the original Wave God, and with a possible third part on the way — this award-winning duo is right to ride this wave of success
Wiz Khalifa and Big K.R.I.T. became immortalized during the blog era, where new music releases circumvented radio and music video shows and made it harder for record labels to place restrictions on the relationship between artists and listeners. Now, thanks to producer Girl Talk (Gregg Gillis), "How The Story Goes" reunites the two on this laidback, smoke-friendly record that finds them in a reflective mood detailing how money and status affect the relationships around them. A proper throwback vibe if there ever was one, "How The Story Goes," which appears on Girl Talk's Full Court Press album, is a diverse and cohesive body of work to add to your rotation over this weekend.
Deanté Hitchcock is a personal favorite of mine, due to his impressive style, colorfully open lyrics, and his penchant to deliver a host of music to appease listeners of his work. His latest offering, "Alone," finds the ATL rapper delving deeper into an introspective space, detailing all the effort that goes into relationships and questioning if it is actually worth it. (A: Yes.) Keeping his foot on the gas after dropping Better in 2020, "Alone" is an attempt to understand and be understanding, which I hope audiences are as we await the next record from this talented creative.

Special Mentions: There is also some exceptionally dope work from the likes of Ogi ("Envy"), Dreezy ("Covid Flow"), Coco Jones ("Caliber"), Channel Tres ("Acid in My Blood"), and Summer Walker ("No Love" Extended Version feat. Cardi B and SZA) that you cannot afford to miss.
Watch The Streams:
It's been nearly four years since Atlanta Season Two gave us "Robbin' Season," and a lot of memorable moments. After scheduling conflicts, the pandemic, and racism all attempted to halt Paper Boi (Brian Tyree Henry), Earn (Donald Glover), and the gang's return to the small screen — this third season will pick up where we left off, featuring them touring in Europe, and will be called The Trip, serving as the series penultimate season. Let's all enjoy the ride while it is still around!
The return of video games to the screen has shifted in the past few years, as most have forgone being in theaters across the country and instead settled on being on TV screens. Most recently, Halo, based on the hit humans-versus-aliens game for the Microsoft Xbox has been given the high-profile treatment as a Paramount+ series. Starring Pablo Schreiber as the super-soldier Master Chief, Bokeem Woodbine as Soren-066, Olive Gray as CDR. Miranda Keyes, and Bentley Kalu as Vannak-134, this is one strictly for the gamers to enjoy over the weekend.
If Atlanta is too surreal and Halo a bit out of your range, the return of the smash-hit Netflix series, Bridgerton, should be the lighthearted fix for your TV watching needs. Yes, yes, we know that Regé-Jean Page has gone on to tackle bigger projects (Bond, James Bond, anyone?) — but Season Two will now focus on trying to find Viscount Anthony Bridgerton (Jonathan Bailey) a suitable match. And who doesn't love a good bit of dating messiness, right?
BET Amplified Artist of the Month Spotlight:
It is This Weekend's pleasure to announce Muni Long as the BET Amplified Artist for March! The singer-songwriter, formerly known professionally as Priscilla Renea, has usurped the Billboard Hot 100 and became a beloved star by music lovers around the world.

After penning hits for artists such as Rihanna, Fifth Harmony, and others — Muni Long reinvented herself as such and her hits "Sneaky Leak" and "Hrs and Hrs," the latter which became viral on TikTok, became instant classics. As this month's BET Amplified Artist, be sure to keep an eye out for an exclusive interview with the talented Capitol Records artist and learn why she is destined to be in front of us for "Yrs and Yrs" to come.
Live at the Experience:

Currently, yours truly is enjoying the riddim and vibes that come with attending the first Afro Nation to hit the U.S. With jollof rice and fresh plantains wafting in the air, it is an absolute pleasure to announce that the "Queen of Afrobeats," Tiwa Savage, will be having her first headlining tour of the U.S. coming this May.

The Water & Garri Experience will take place over 17 cities, starting in New York on May 15, and closing out in Toronto on June 19. As the most followed African woman artist on social media, Tiwa Savage is considered the "Beyoncé of the Motherland," and with the rest of the known world finally embracing this trailblazing artist and Afrobeats as a whole, it goes without saying why you should cop a ticket and not miss this history-making event.
Sun May 15 - New York, NY - Warsaw
Fri May 20 - Edmonton, AB - Union Hall
Sun May 22 - Vancouver, BC - The Commodore Ballroom
Wed May 25 - Seattle, WA - Nuemos
Fri May 27 - San Francisco, CA - August Hall
Sun May 29 - Los Angeles, CA - The Roxy Theater
Tues May 31 - Denver, CO - Marquis Theater
Thu June 2 - Dallas, TX - Echo Music Hall
Fri June 3 - Houston, TX - White Oak Music Hall
Sun June 5 - Atlanta, GA - The Loft
Thu June 9 - Chicago, IL - The Promontory
Fri June 10 - Minneapolis, MN - Varsity Theater
Sun June 12 - Columbus, OH - King of Clubs
Wed June 15 - Silver Spring, MD - The Fillmore
Thu June 16 - Boston, MA - The Sinclair
Fri June 17 - Montreal, QC - The Corona Theatre
Sun June 19 - Toronto, ON - Longboat Hall
Sat Aug 20 - Queens, NY LETSGETFR.EE

Tickets for the Water & Garri Experience go on sale today, Friday, Mar. 25, beginning at 10:00 a.m. local time. You can grab yours here.
---
Check back to BET.com and BET Digital for more weekly installments of This Weekend.
Kevin L. Clark is a screenwriter and entertainment director for BET Digital, who covers the intersection of music, film, pop culture, and social justice. Follow him on @KevitoClark.