Big Pun's Son Is Going Viral For This Video About His Father's Abuse
The aspiring rapper draws from his personal life for the impactful visual.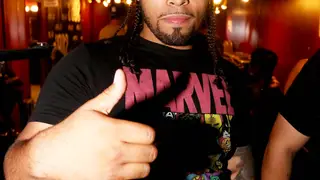 Big Pun's hit-making legacy has oftentimes been marred by his legal woes and troubling abusive behavior.
While he continues to be celebrated as one of the greatest lyricists to touch a mic, nearly 20 years after his death, his son Chris Rivers is revisiting his father's haunting past with a new visual depicting the ravages of his domestic abuse.
The aspiring rapper's latest offering, "Fear Of My Crown," paints the picture of a family tainted by a man's physical intimidation and violence. The events which unravel throughout the chilling video are seeminly inspired by Chris' own childhood under Pun's parental supervision. Back in 2013, during a sit-down with Peter Rosenberg, Chris spoke openly about his father's pattern of abusive behavior and the complex he developed in identifying as "Baby Pun." 
Following the release of the video, Chris released a statement to explain the inspiriation behind the emotional track. "Growing up in an extremely abusive household, I've gotten to see all the subtle nuances and the major effects as well that trickle down from these events," the 22-year-old said. "I️ want everyone who has been through any form of abuse to know that these things do not decide your worth. These things do not lessen your character or the value of your spirit."
"You are not a victim and you do not need to repress these things or hide behind a mask that you've created to deter prying eyes," Chris added. "You are a warrior. You are a king, a queen and above all you are priceless." 
Upon it's release, the video has since gone viral on Facebook and caused a quite stir among the rap community. However, Chris is adamant that the sole purpose of the visual is to conjure dialogue as well as spread awareness about domestic violence. "Please share to spread awareness of these things that happen all to often please watch the video and please don't feel alone," he said.
Take a look at Chris River's video for "Fear Of My Crown," below.