Richard Sherman Could Miss Super Bowl for Birth of Son
Impending arrival of Seahawks star player's first child may conflict with big game.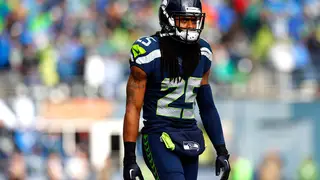 You're a star football player faced with the predicament of either playing the Super Bowl or attending the birth of your first child. What do you do?
That's the predicament Richard Sherman finds himself in entering Super Bowl XLIX this Sunday. The Seattle Seahawks star cornerback and his girlfriend are expecting their first child — a boy — any day now and Sherman may be faced with the tough task of choosing between the career pinnacle and once-in-a-lifetime moment. Sherman hopes his son stays in the belly until after the Super Bowl game against the New England Patriots is played.
"He's not supposed to come on Sunday," Sherman told reporters Thursday during his final pre-Super Bowl press conference, as reported by the New York Daily News. "Obviously that would change some things, but I think he's going to be a disciplined young man and stay in there until after the game. He's going to do his father his first favor and stay in there for another week or two." 
Sherman added that he knows what he'll do if faced with that dilemma, but wouldn't reveal his choice to the press. He did, however, comment: "I've thought about the possibility of him coming during the game or before the game, and we have things in place in case that happens. We'll cross that bridge when we get there."
If Sherman is faced with that decision and opts to see the birth of his son over playing in the Super Bowl, his Seahawks teammates vowed to understand. 
"I know the world will be on his back if he doesn't come to the game," Seahawks defensive end Michael Bennett said. "But I think Sherm will make the right decision. It's only once in a lifetime you get to see your kid born, but it's only once in a lifetime you get to the Super Bowl. It's a hard decision."
Super Bowl XLIX kicks off live from the University of Phoenix Stadium in Glendale, Arizona, this Sunday night at 6:30 p.m. EST. 
Click here to win a trip to the Super Bowl Gospel Celebration in Phoenix, AZ, plus 4 tickets to the Big Game. 
BET Sports News - Get the latest news and information about African-Americans in sports including weekly recaps, celebrity news and photos of your favorite Black athletes. Click here to subscribe to our newsletter. 
(Photo: Tom Pennington/Getty Images)