Tony Rock's 17 Biggest Moments Of 2017
Count down one of the craziest years ever with us.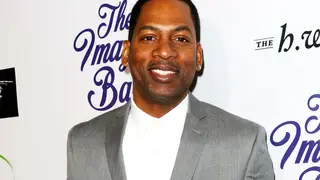 Comedian Tony Rock is closing out 2017 with a bang and riding the blast into next year. The actor and host just kicked off the latest season of HBO's All Def Comedy and will be giving fans fits as the host of BET's new Black Card Revoked in January, and star of a sitcom, Living Biblically on CBS, later in 2018. 
With the most infamous year in recent American history coming to a merciful close, we invited Tony to help us recap some of the biggest moments of 2017.
The Trump Inauguration

I'm sure I wasn't watching. I don't remember where I was. But I remember thinking that this wasn't going to be good for the country. I did think that it was going to bring Black people closer together, because every bad thing in this country brings us closer together. Slavery and Civil Rights brought us closer together. But I figured Trump was gonna be so bad that his racist rants and views and some of the things he was going to do was gonna have a reverse effect and bring people closer together. I think the Black Lives Matter movement got a little stronger. I think dialogue got a little stronger with Colin Kaepernick. People got more woke when Trump got in office. We was woke before like the first time your mom tries to wake you up for school. "Yeah, yeah, I'm up." But Trump got in the office and we were like "I'm up!" Like that third time she tries to wake you up.

Black Support Of Trump

There is always going to be a Black person that thinks that he or she is the person that can fix this. "I can talk to Massa. Let me smooth it over." There was a Black person that infiltrated the Black Panther party. There is always an "ambitious" one who wants to be the go between. I like Chrisette Michele, I think she's pretty and think she can sing. But who were her people that thought her [singing at the inauguration] was gonna be a good idea?

La La Land/Moonlight At The Oscars

I'm not a big Oscar dude but I heard about it. I think the person who presented the award assumed La La Land was gonna win so when they opened it and thought La La Land. In their mind there was no way the gay hip-hop movie was gonna win an Oscar so they said La La Land.

The Rise Of Cardi B

Cardi B is the come up of the year. Cardi B has strippers actually thinking about going legit. Every hoe that ever said three words that rhymed is in the studio right now. I can't even get a proper lap dance now. They giving me lap dances at Starletts while they spitting 16 in my ear. I gotta pay for a lap dance and a mixtape now? Just twerk! But Cardi got all them bitches coming down off the pole. The champagne room is empty. And she won. She got the eight-karat ring from one of the hottest n****s in the game. There's f**kin' nurses out here like goddamn.

Beyoncé And Jay-Z Having Twins

Jay-Z and Beyoncé are hip-hop royalty. That's our Camelot. So whenever they expand the family that's always a good thing. It's gonna be fun to watch Blue Ivy grow up. Jay is gonna live forever through his children. When Entertainment Tonight says "Blue Ivy turns 16," you know what you're gonna do? You're gonna say "Reasonable Doubt was an amazing album. That's his kid?" It's gonna keep him in our consciousness. That's big for Jay and Beyoncé. Black love. RICH Black love, too.

T.I. And Tiny Staying Together

T.I. was with Tiny when he didn't have shit and she had very little shit, so at the end of the day their relationship is based in real love. So when all the groupies and scandal is gone, you realize you've been through so much. We have children, they're watching. When you strip away the music and money and stuff he loves her and she loves him. So I'm glad they worked it out.

Colin Kaepernick's NFL Protest

He's big because it's been years since an athlete took a stance against anything. Most Black athletes are known for getting in trouble for stuff. But he got in trouble for doing the right thing. The best meme of 2017 is "America is so racist, that when we protest racism in America, people think we're protesting America." And Colin was trying to bring attention to something that needs light shown on it. Police brutality and unarmed black men (and women) being killed.  There was no light on it, so when he put the light on it, he got in trouble for doing the right thing.

O.J. Getting Out Of Jail

Hey, turn up. Hide your kids, hide your wife. He wasn't in jail for murder, he was in jail for stealing his jersey. He did the time, he's out. I know white people still want him in jail for murder but that's over with. It will live in infamy but he was in jail for stealing his jersey. You can't give a man 90 years for stealing his jersey. O.J. wasn't Black until he needed to be. Most Black celebrities, you can check the record, when they get astronomical fame, they're not Black anymore. Soon as they get in trouble, they're like, "Where my people at?" Michael Jackson wasn't f**kin with n****s, but as soon as he got in trouble with them kids, he had the FOI on stage with him. You think he ever read a copy of the Final Call? Ate a bean pie? OJ did the same thing. 

Punching Nazis Knocking Over Confederate Statues

This country has an ugly history and if we're going to progress as a people, we have to progress past the horrible history [but] there are monuments all around the country to that history. So if we are going to progress, I think the monuments should come down. That's my personal opinion. Now if you want a constant reminder of how f**ked up you used to treat us? Bet, we can do the same thing. Let's put a bronze statue of O.J. up in every Black city with a bloody glove in his hand and see how they like it.

Return Of Dave Chappelle

First of all, Dave has never left. He's my comedic idol. He's the man. Dave's dope and I'm a super big fan and very happy that he's back. It's a testament to real talent. He walked away from $50 million dollars and everyone thought he was crazy. Let me tell you something, every n***a in this country is making minimum wage. It's just how much the white man that's paying you can afford to pay you. Comedy Central said here's $50 million and he said nah. They called him ungrateful and crazy. Dave knew what it was, left with his head held high and came back and got $60 mil from Netflix. Boss!

Remy Ma Vs. Nicki Minaj Battle

I have never seen a more one-sided rap battle in my entire life. I remember LL Cool J and Kool Moe Dee, LL vs. Canibus, EPMD taking shots at Rakim, Rakim sending subs at Kane, Nas and Jay, Meek and Drake. Remy Ma bodied Nicki so much so that she never responded! It's unprecedented. Even Meek responded to Drake, and that was the wackest response ever, but at least he said something back. You can't do a record with two other people and make it your response record. That's cheating. Those two other people wasn't in the beef. Remy came at her one-on-one, you gotta retaliate one-one-one. I don't consider that a response.  

Tyrese's Instagram Meltdown

I want to support Tyrese because the same people making fun of him and putting up memes about him, they probably have children they don't see everyday. They probably got baby mamas and not even fightin' to see their kid. I don't know Tyrese like that, but it looked like he was fighting to see his child. I commend him for that. Every man should fight to see his child. But to just get bonkers with it and saying Will sent him money, that was a little bit much. When you doing it for Instagram, you're not doing it for real life. Some stuff can be done with a phone call.  

Joey Bada$ Looking Into The Eclipse

That n***a should change his name to Eclipse. It's dumb because you f**ked up a bag in addition to f**kin' your eyes up. That sucks. The good thing about it is he can't do it again. There won't be another eclipse for 90 years. Hopefully he only f**ked up one eye, and he can f**k up the other one at the next eclipse.

Wendy Williams Fainting On Air

I didn't think that was funny. She was stressed over her husband stuff. She works crazy hours. That was probably just stress. She always showed me love, never tried to out me as gay, so I got nothing but respect for her.

Eminem's BET Cypher

It was amazing. It was good to see him back No. 1 and he was dropping some knowledge. I gotta get the new album. He really went at Trump, boy. He pulled no punches.

Male Rompers

I saw they were a thing on social media, but I didn't see a LIVE motherf**ker with one on in the street. I'm in comedy clubs most of the time, so if you had the nerve to walk yo a** into a comedy club with that on, then good for you.

Gucci Mane Getting Married

That's actually big. Because we remember when he first came out rapping the crazy drug s**t and he put the tattoo on his face and drinking lean. Then he went on a 36-month cardio training diet, got out ripped and handsome and married a bad b***h. He won! It's Cardi, then Gucci. He gave her $2 million before he went to jail and she gave him $5 million when he got out! That's the No. 1 come up of 2017.