'Atomic Blonde' Movie Review: 'Atomically Underwhelming'
The Charlize Theron film is in theaters today.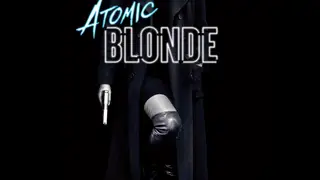 I'm a sucker for a female action film: Point of No Return (Bridget Fonda), Salt (Angelina Jolie) and anything with the legendary Pam Grier. Similar to any action film, I don't have high hopes for this genre. I'm not expecting an Oscar-worthy screenplay or life-changing cinematic moments. I just want slick fighting sequences, biting one-liners and the leading lady to whip the ass of all the misogyny in her way. This is what I hoped for in Atomic Blonde, but instead, the Charlize Theron film is an over-stylized dud that takes itself too seriously and plays out like a two-hour 1980s music video.
Overall, atomically underwhelming.
Directed by David Leitchm, Atomic Blonde stars Theron as Lorraine Broughton, a spy whose mission is to kill off an evil espionage ring that is brutally murdering undercover agents. Due to the clunky script, I had no idea what was happening for the majority of the two hours. Who is the enemy? Why are they the enemy? Who was just killed? Why should I care? — these are the many questions I asked myself as I repeatedly checked the time, shocked that it took nearly 60 minutes for Atomic Blonde to have any serious action scenes. Within the first hour, Atomic Blonde self-imploded. There was no investment in the characters because of the painful storytelling.
That said, the acting was perfect. Charlize Theron, who is also a producer on the film, never gives a bad performance and the solid cast appeared to believe they were in the next Tomb Raider. The film is glamorously shot with a serious 1980s soundtrack. Each scene looks like a piece from a stylish vintage music video — which, story-wise, is disappointing, but definitely appeals to the senses. While pretty cinematography is a plus, Atomic Blonde is all style and zero soul, even by action movie standards.
Lastly, the movie has received some press because of Theron's character identifying as bisexual. The Oscar winner said she felt like her character's sexual orientation was important because we don't see enough bisexuality in movies — and I agree. Therefore, I was excited to see how the character's intimacy would play out on screen. Unfortunately, the "bisexuality" was the hypersexual, super-femme, extremely gorgeous women we have seen countless times in films — the type of bisexuality that is safe for the heterosexual, male gaze. This is a stereotypical representation of female bisexuality (arguably, the only one) that has been present in films for decades.
From a bland script to weak action, there is nothing atomic in Atomic Blonde.
Atomic Blonde is in theaters now.