Emmett Till's Family Calls For Arrest Of Carolyn Bryant After An Unserved Warrant Is Found
She has never been held accountable for her role in the teen's death.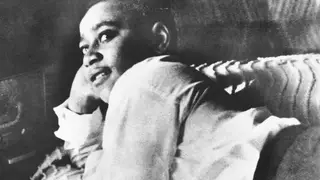 Although the Department of Justice closed the investigation into the murder of Emmett Till due to lack of evidence, Till's family is calling for the white woman who wrongfully accused him to be arrested after unserved warrant was discovered.
According to the Associated Press, last week, an unserved warrant charging Carolyn Bryant for the 1955 kidnapping of Emmett Till was found in the basement of a Mississippi courthouse. The search was initiated by the Emmett Till Legacy Foundation and two members of Till's family were included: Cousin Deborah Watts, head of the Foundation; and her daughter, Teri Watts. The warrant, dated Aug. 29, 1955, called for the arrest of Carolyn Bryant Donham. The warrant was found in a box and has been certified as genuine.
Bryant is in her 80s and reportedly living in North Carolina, according to the Associated Press.
Terri Watts says this is new evidence, "Serve it and charge her… This is what the state of Mississippi needs to go ahead."
The AP states there were reports of a warrant in 1955 but the Leflore County sheriff at the time told reporters he did not want to "bother" Bryant because she had two young children.
Ricky Banks, the current Leflore County Sheriff who was seven years old when Till was killed, told the AP, "This is the first time I've known about a warrant."
He added, "I will see if I can get a copy of the warrant and get with the DA and get their opinion on it."
Dewayne Richardson, District Attorney for the Fourth Circuit Court District of Mississippi, declined to comment to the AP.
Till was 14 years old when he was killed in 1955. He was accused of whistling at and making sexual advances toward Carolyn Bryant. Her accusation led to him being abducted, tortured and murdered by Donham's then-husband, Roy Bryant, and his half-brother J.W. Milam. The boy's body was weighted down and thrown into the Tallahatchie River.
Bryant and Milam were tried on murder charges, but were quickly acquitted by an all-white jury. Just months later, when protected against double jeopardy, the pair confessed to the crime in a paid interview with Look magazine.
Till's murder subsequently became one of the most famous examples of racist vigilante justice in American history.
An investigation into Till's killing was reopened in 2018, following the publication of Timothy Tyson's book The Blood of Emmett Till. The work alleges Bryant had recanted her testimony that Till had grabbed her and uttered obscenities. However, Bryant denied she recanted her testimony in an interview with the FBI, who concluded that there was insufficient evidence to prove that she lied to them after she denied that she recanted her testimony in The Blood Of Emmett Till.
With a lack of new evidence, the FBI closed their investigation. The Department of Justice has not commented on the unserved warrant and it's unclear if a 1955 warrant would hold up in court.