This Weekend: Here's What to Watch, Listen to & Experience
Spend time off with Muni Long, Omah Lay, and DJ D-Nice's Club Quarantine party series.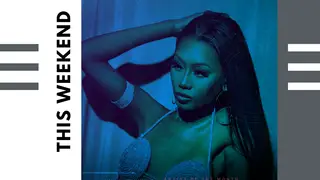 When it comes to content, it's easy for us to stick to what we know or want that old thing back. But for a rare few, being a true content connoisseur is about being on top of what's hot, what's trending, and what's next. Luckily, this new guide is everything for your music, literary, film, TV, and live experiences needs.
Each week, yours truly, Kevin L. Clark, will be your go-to advocate, spotlighting all those content cravings worth enjoying.
You're now tuned into This Weekend, a weekly round-up for content culture lovers and those who love to avoid FOMO.
For Friday, Mar. 4, this week's episode finds us with some freshly-discovered treasures for you, your family, and friends to get into + share with others. It contains a healthy dose of sonic vibes, this month's BET Amplified artist to know, and, of course, something streaming that's a feast for the eyes.
So bon appétit to all those true savants who are purveyors of content culture out there.
---
For Listeners Only:
Internationally known, locally respected hip hop star Wale has been dropping hit after hit as Folarin II builds upon his consistent rep in the game. After dipping into flirty wordplay with J. Cole on "Poke It Out," the D.C. hometown hero returns with "Tiffany Nikes," a stylish and slick song that finds Wale charismatically rhyming between colorful horns and scintillating 808s. In addition to the visual, the Grammy-nominated star is raffling off a pair of retro Tiffany Nike SB Dunks for only $1, which you can compete for here. The winner will be announced on March 7, but play "Tiffany Nikes" on repeat throughout all of 2022.
There is a Yoruba proverb, which translated says, "What you give you get, ten times over." And for Nonso Amadi, the Naija-born, Canada-based Afro-R&B rising star is ready to give more than that with his smooth and seductive record, "Foreigner," which follows his 2019 Free EP release. Pulsating with African drumlines, trance-inducing saxophone instrumentation, "Foreigner" not only addresses the artist's "disappearance" from the music scene but should entice listeners to play over and over again to witness the magic Nonso offers within his soulful sound.
You heard it here first: Omah Lay will be on your stage very, very, very soon! The 24-year-old singer and NAACP Image Award-nominee have impressed listeners with his signature vocal warmth. But now, on "Attention," his first single of 2022, Omah proves that he is ready for just that and more from eager listeners of Afropop and R&B. Featuring Justin Bieber, "Attention" is just a small-small glimpse of what's to come from his debut album, Boy Alone, due this spring. With 2021 a landmark year for the genre, Omah is another homegrown Naija boy who aims to enchant audiences for decades to come.
Watch The Streams:
The breakout hit WeTV series, Love After Lockup, is back and ready to get timelines popping with all of the messiness. The fourth season begins tonight, March 4, at 9:00 p.m. ET/8:00 p.m. CT, and features five new couples trying to make relationships work from central booking to the altar. With 10 new episodes in a new 90-minute format, plus a fan-favorite couple's return, this season of Love After Lockup promises long-awaited shocks and surprises that should pay off for any true fan of the show.
Let the "Who's the best Batman debate?" begin, America. Matt Reeves, the excellent director behind the Planet of the Apes reboot, is once again behind the camera for another film in the storied franchise. In The Batman, Robert Pattinson stars as tortured playboy Bruce Wayne, while Zoë Kravitz as Selina Kyle/Catwoman complicates things for the as-yet-to-be "World's Greatest Detective." It has been a long time coming, yet, after BET.com spoke with the two stars about their time on set, The Batman is a darker superhero film not to miss.
Adapted from Jeff Pearlman's book Showtime: Magic, Kareem, Riley and the Los Angeles Lakers Dynasty of the 1980s, director Adam McKay mixes humor, raunchiness, and the intrigue of sports entertainment in Winning Time: The Rise of the Lakers Dynasty. Featuring some familiar faces from the McKayverse — John C. Reilly as Dr. Jerry Buss and Jason Clarke as Pat Riley — the impressive part of this series, which premieres March 6, is the performance of newcomers Quincy Isiah as Earvin "Magic" Johnson and Solomon Hughes as Kareem Abdul-Jabbar.
BET Amplified Artist of the Month Spotlight:
It is This Weekend's pleasure to announce Muni Long as the BET Amplified Artist for March! The singer-songwriter, formerly known professionally as Priscilla Renea, has usurped the Billboard Hot 100 and became a beloved star by music lovers around the world.

After penning hits for artists such as Rihanna, Fifth Harmony, and others — Muni Long reinvented herself as such and her hits "Sneaky Leak" and "Hrs and Hrs," the latter which became viral on TikTok, became instant classics. As this month's BET Amplified Artist, be sure to keep an eye out for an exclusive interview with the talented Capitol Records artist and learn why she is destined to be in front of us for "Yrs and Yrs" to come.
Live at the Experience:
The Club Quarantine Live experience continues to bring healing vibes to the people as DJ D-Nice reveals that he's bringing the experience to Las Vegas, NV on Sept. 2-4. Presented by his company, Brand Nice, this Live Nation Urban-collaborative event will feature his penchant for curated sounds and a dynamically diverse lineup of performers.

The jam-packed weekend, which finds artists like Fabolous, Tank, El Debarge, Amerie, Keyshia Cole, and more hitting the stage, will have day and night moments to enjoy, and promises to be an unforgettable three-day experience. Weekend passes are already available for pre-sale at CQLiveinVegas.com — and be sure to have your outfits together for the Girls Dem Sugar Pool Party and special CQ After Dark late-night bash!
---
Check back to BET.com and BET Digital for more weekly installments of This Weekend.
Kevin L. Clark is a screenwriter and entertainment director for BET Digital, who covers the intersection of music, film, pop culture, and social justice. Follow him on @KevitoClark.