White College Girls Slammed For Singing N-Word In Chris Brown's 'Freaky Friday' Verse
The students' coach said the viral Snapchat video was a "teachable moment."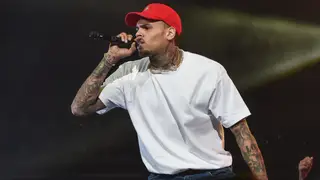 Players with the Virginia Tech women's lacrosse team came under fire after a viral Snapchat video shows saying the n-word while rapping along to a Lil Dicky song.
In a 13-second video that was posted to Snapchat then re-posted on Twitter over the weekend, some white girls on the team can be heard singing along to Chris Brown's verse on Lil Dicky's song "Freaky Friday." In his video, the players can be heard repeatedly singing along to a version of the n-word.
"Cause I'm that n***a, n***a, n***a, n***a, I'm that n***a," sang the team.

The video—which appears to feature only white players—was recorded after last Saturday's win over Elon University Phoenix and posted to Snapchat soon after, reported the Roanoke Times.

The coach of the team, John Sung, considers it "a teachable moment."

"This is a teachable moment," Sung said Monday in a phone interview with the Roanoke Times. "It's not something that we're proud of. The team is very apologetic and sorry.

"There's nobody of any color that should say it. Period. There's nobody that should say it."

Although Coach Sung tried to say nobody should say the word, people on Twitter respectfully disagreed

Sung also said a member of the Virginia Tech team posted the video to social media when they were celebrating their win.

"There was no malice involved," Sung said in the interview. "They just thought that they were singing along to a song.

"They had just won. They're singing songs. The first couple songs were Disney songs. … They were celebrating and they were dancing and they were excited," he added.

Sung, who is of Korean descent, said he has met with the team.

"They've got to be educated to make better decisions," Sung said in the interview. "They've got to know what's socially acceptable, and I think they're learning all those things. It's a lot on me as the leader. People forget — I'm a minority."

Although the coach said the girls learned from their actions, they were still widely criticized