Leave Me 'Lone! Shemar Moore Claps Back At The Entire Internet After Getting Clowned For This Shirtless Two-Step
Why won't y'all let him live his best life?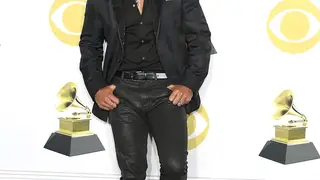 No one can say Shemar Moore suffers from low self-esteem. The 48-year-old Criminal Minds actor will defend his body, sexuality, money and beauty any chance he gets. He's beautiful and he's know he's beautiful! Shout out out anyone who caught that Crystal LaBeija reference.

The former Soul Train host decide to create a solo Soul Train line and danced shirtless for an Instagram video. Moore didn't give a damn if he looked like he was part of the rhythmless nation. Watch below:

Obviously, the internet had a field day with Shemar, dragging him all over The Shade Room. Some comments included, "I've never seen a Black person dance off beat until now," "No rhythm, can't dance, a little corny...but looks good," "Welp.... there's that for being humble," and "Grind on me anytime. Even if you are off beat."
Well, Shemar couldn't handle anyone talking about two-step and ranted in The Shade Room's comments, "I don't care if I cannot dance! I'm having fun! I'm rich, talented, take care of my friends and family ... will ... take your girl or your wife." See the full rant below:

Well, he told y'all. Just let Shemar be great, and if you don't, he will certainly let you know he is God's gift.