Exclusive: Karrine Steffans Responds To Rumors That Rotimi Dumped Her After She Had A Miscarriage
The former video vixen shared a statement with BET.com.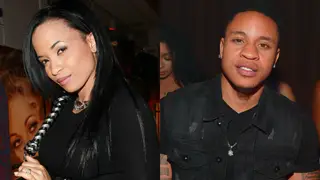 Former video vixen Karrine Steffans was recently made the subject of a story run by Ebony Magazine which detailed her past struggle of suffering a miscarriage of a child she conceived with Power star Rotimi.
After the story initially began circulating, many were shocked to learn of the details of what, to several, was new information. However, Steffans recently shared a statement exclusively with BET.com detailing the truth behind it all.
In response to the recently published story that claimed the actor abruptly left her after she suffered the miscarriage, Steffans began by highlighting that the information is old and dates back to three years ago.
"In the summer of 2015, I suffered an incredible loss, which sent me reeling for the better part of the next three years," she said. "I have only just recovered from that loss — a miscarriage of a child I loved and prayed for. I named her Summer."
She went on to add that the story forced her to relive a moment that took her quite some time to heal from.
"The last three years have been a long road to recovery, and I was finally in a place of peace and acceptance," she continued. "So, to be forced to relive this tragedy when Ebony Magazine reposted the story as if it were brand new and happened 'this weekend,' has been incredibly triggering. My miscarriage related PTSD has resurfaced, as attacks on my character, my relationship with Summer's father, and even our deceased baby, have begun all over again."
Continuing to criticize the approach taken by the publication and in an effort to stress the timeline of the events, she said, "A simply fact-checking call would have helped Ebony realize these events did not just happen, that they were running a three-year-old story, a report which I am sure has also been damaging to Rotimi and his family, all over again."
She ended her statement with these words: "There is so much to regret here. It was painful to have gone through such a stressful and emotional time once, and it was something I should have done in private, but having to do it twice is excruciating and emotionally obliterating."
Rotimi has not yet responded to the claims, himself.
Take a look at BET.com's new original documentary, VIXEN, above, and get more details on the episodes here.