Megan Thee Stallion Donated $10K To Bail Relief Efforts In Houston
"I love my people and I love my city!!!" she wrote on Instagram.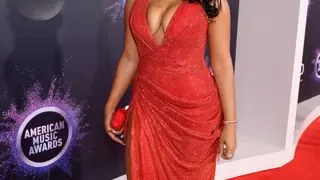 As protests continue in cities across the U.S., Megan Thee Stallion is the latest celebrity to donate to a bail fund for protestors.
On Tuesday (June 2), the "Savage" rap star took to Instagram where he shared an electronic receipt for a donation of $10,000 to Restoring Justice, a criminal justice organization based in Houston, TX. 

"I love my people and I love my city!!!" she captioned the receipt and encouraged her 11 million social followers to donate whatever they could, writing  "Any contribution helps!"

Previously, Drake revealed that he had donated $100,000 to National Bail Out which was followed up by The Weekend who donated $100,000 in addition to $200,000 to Colin Kaerpnick's Know Your Rights initiative and $200,000 to Black Lives Matter after they were challenged by Canadian singer-songwriter Mustafa The Poet.

Born and raised in Houston, George Floyd's tragic death has particularly hit the local rap community hard. An estimated 60,000 people banded together and marched through the streets of Houston in protest over Floyd's police killing, according to the Texas Tribune, with Houston rappers Trae the Truth and Bun B leading the procession alongside Mayor Sylvester Turner, Rep. Sheila Jackson Lee, and Rep. Al Green. Later that night, the Houston Police Department tweeted that over 200 people were arrested for disorderly conduct and refusing orders to clear the streets.

Public outcries for accountability and justice over the recent deaths of Breonna Taylor, Arhmaud Arbery, Tony McDade, and David McAtee amid a widespread push for criminal justice reform in America have continued to ring out across the nation. 

Derek Chauvin, the fired Minnaepolis police officer responsible for Floyd's death, was arrested and charged third-degree murder and second-degree manslaughter on Friday (May 29). No charges have been brought against the other three officers who were involved with Floyd's arrest. 

BET has been covering every angle of George Floyd's death in police custody, other social justice cases and the subsequent aftermath and protests. For our continuing coverage, click here.