Viola Davis Slams 'The Help' for Catering to White People
The role earned her an Oscar nomination.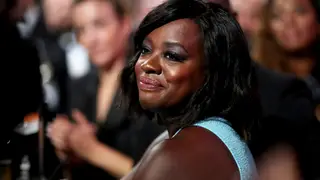 Viola Davis is having the best year and we're not even a full month in.
While promoting her new film Fences in the UK, the actress was honored by the British Academy of Film and Television Arts. During her tribute, one of her most celebrated films — The Help — came up in conversation and she shared that she now has mixed feelings on what the film portrayed.
She revealed that contrary to the belief of the producers and the lead actress, the film was not told "from the maids' perspective" and she wasn't here for that.
"I absolutely love the premise. I love the fact that [Emma Stone's character] said, 'I am going to write a story from the maids' perspective of what it feels like to work with these white women,'" she said. "Operative term meaning the maids' perspective. I don't feel like it was from our perspective, that's the problem I had with it. I had it from the very beginning."
She went on to say that the maids' voices would have been a lot more amplified if the story was actually told through their eyes and not sugarcoated.
"The anger, the vitriol and the hatred that they would have towards these white women if they were asked, if they were put in a situation where they were isolated, would have been vocalized," she said. "You didn't see none of that!... That's the issue I have with a lot of our stories. By the time... it makes it to the screen, the truth is so filtered down, and then it's given to you to make you feel very comfortable."
Listen to the interview below:
Watch what Davis said Fences taught her about her own marriage with BET Videos, above.