#Unboxed Vol. 8: NNAMDÏ Will Provide 'A Seat' For Anyone Willing Listen To His Infinite Message
The Chicago-based musician is a multifaceted artist who always goes the distance with his creations.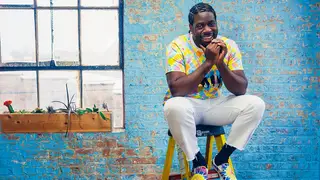 A prominent name in Chicago's indie scene for nearly a decade, Nnamdï Ogbonnaya, who releases music as simply NNAMDÏ, is almost like a columnist in musical form.
Born in California before eventually ending up in the Windy City, the 32-year-old has successfully tried his hand at everything from math rock to hip-hop of the screamo persuasion. He's also participated in his city's prominent DIY scene and formed his own label, Sooper Records.
And while music has long been his calling, NNAMDÏ has always had a non-creative plan of being an electrical engineer, a profession he attained after graduating with a degree in the subject from the University of Illinois at Chicago. Perhaps though, it's the world of conventionality that's kept him from being anything but.
On his most recent album Please Have A Seat, NNAMDÏ becomes a bit of a social observer with the lead single "I Don't Wanna Be Famous" having him fantasize about becoming so famous he begins to lose grips with society and his own self. Rapping about private jets and luxury watches, the observation he relays is almost akin to the Twilight Zone episode "A Nice Place to Visit" where the protagonist gets everything he ever desired, only to find out he was literally in hell.
NNAMDÏ isn't anti-riches though. In-fact, during a recent interview with BET, he says he'd like to enjoy the finer things in life – just not at the expense of others. It's a big player in his philosophy, not only in his music but in his real-life actions.
BET: You're kind of from different places – born in California, moved to Ohio at a young age and then ended up in Illinois where you're based now. Describe that journey and how it kind of made you see the world.
NNAMDÏ: I really feel like I'm like a Cali boy at heart – just in terms of the energy and the weather. Chicago is where I was raised. All those other places like Cali I was born there but I was only there until I was like 5 so I don't really remember much of it when I was little. And Ohio, I was there for like kindergarten and first grade I think. So yeah, pretty much my whole life has been in the Chicago area. My dad just moved around a bit. He kept getting offers for different jobs and so we would kind of follow the money so we can survive, you know? But then he got a pretty stable one. He was working in a publishing company around the suburbs of Chicago. And yeah, just stuck here. They migrated back to California when I was old enough to do things on my own there.
BET: You've said that your goal is to never again use your electrical engineering degree from the University of Illinois at Chicago in favor of making music your everything. You're more successful now than you were when you started back around 2013, but is that still something in the back of your mind?
NNAMDÏ: The amount of privilege that goes into being able to do that – privilege and luck. Now there's so many factors to being able to be your own boss. There are definite ways but it's not easy and it's not obvious for everyone. Like a lot of people have hustlers mentality and you do what you got to do to make the money. But not everyone is built that way and some people have to use the skills that you have to get where you need to go. So obviously I want and know that I'm going to do this 100 percent. I'm gonna put all my energy and as much time as it needs to go into it to make this as fruitful as possible for me and the people I care about around me. But if there's a situation where I have to do something else for a minute – I don't know, let's say I lose my voice or a limb and I can't drum, I can't sing. You have to have other things you can do or else you're just gonna be f****d in general. Especially being in the United States where we don't have free health care and all these things.
BET: You released Please Have A Seat last October. Take me back to putting that out and the sort of reception you received because it was very positive, at least by the critics.
NNAMDÏ: The reception has been pretty good. I'm always gonna be someone that wants more, but I am also a realist. The reception has been good and I think it's still going to keep pushing  because it's really only been a couple months and I've got tours. So yeah, I think the songs have longevity and they just need to find the people that they're meant for.
I think a lot of this record, when making it, I wanted people to be able to insert themselves easier than my past records. A lot of my past records were so solely focused on my internal monologue, which is still very present in this record. But I think I was more thoughtful of how other people can put themselves into the words and come up with their own stories of whatever I'm saying means to them.
BET: On "I Don't Wanna Be Famous" you have this running critique of your rising fame, which you kind of would rather turn into material things or share with the homies of family. It has this tongue-in-cheek element to it that prompts more than the surface reveals…
NNAMDÏ: I think the way that we look at celebrity and fame is so weird and obsessive in such a strange way where people aren't focusing on their own energy as much. I think we just give too much power to celebrity and the idea of fame. That song is very tongue-in-cheek because I'm saying, I don't want these things, but also saying I do. That's kind of how I feel. I want my music to reach as many people as possible, and if that happens, you don't get to control the other ripple effects of things that happen because of that. So that's kind of where I'm at: I want the resources and funds to be able to support my friends and family and for me to make all my creative endeavors as close to what is in my brain as possible.That's my dream, and yeah, I also want to be able to support other people. I think it's very important once you reach a certain level.
BET: One thing I love that you do is you keep a mini keyboard with you at all times. Is that because if you have an idea randomly you can whip that out and cook something up before you forget it?
NNAMDÏ: It's an easy way to document your ideas. If I walk around with my backpack, I usually have my laptop and this keyboard in it and I can plug it in anywhere. Just be able to write down ideas it's fun. I'm just walking down the street or walking in the park and I have inspiration – that's usually me just like, I'm gonna do three ideas a day regardless of where I am. So it helps to have the keyboard there because it's the easiest way. I can't pull out a microphone everywhere. I do that on my voice memos though.
BET: What was it like being named Chicagoan of the Year by the Chicago Tribune?
NNAMDÏ: You know I'm very honored. That was deep into the pandemic and I was putting out a lot of music. My record Brat came out right before s**t at the fan. I recorded another album that year called KRAZY KARL, which is like a very orchestral project and kind of an homage to the composers of Looney Tunes cartoons. I put out an EP during the riots and protests following George Floyd's murder and I just raised a lot of money and donated it because people couldn't work. And to me, that wasn't that much work. People recognize that as something charitable. But to me, it's just like, If you're not going to help the people around you, we've realized time after time the government and all these other people aren't going to help you. The only people that are going to help you are the people in your community. So I'm very honored to get that.