Unboxed Vol. 2: Divinity Roxx's Pivot to Children's Music Changed Her Life, Earning Her A Grammy Nomination
The longtime singer, songwriter and musician speaks about being nominated for 'Best Children Album' at this year's Grammys.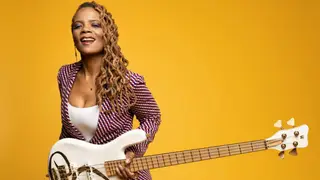 Unboxed is a new BET.com series highlighting Black artists who think 'outside of the box,' when it comes to their music.
Divinity Roxx is one of five artists/groups up for "Best Children's Album" at the 65th Annual Grammy Awards on Sunday (February 5), making her the second Black woman to be nominated in the category. But that almost didn't even become a possibility until fate stepped in.
The recording artist, composer, and musician has been active in the music business for almost three decades – making a name for herself in so many ways, whether it being as a classically trained bass guitarist to the musical director for Beyoncé's "The Beyoncé Experience" and "I Am…" world tours. There's almost nothing she hasn't seen or experienced.
But ironically it was when almost everyone in the music business had to pivot in 2020, due to the COVID-19 pandemic, that she officially returned to one of her past loves: making music for children. It's something she notes that she had done previously, but wasn't a major focus of hers until she received a phone call about an opportunity at the start of the pandemic.
"At the time I was touring with Fantasia [Barrino], and when all the tour dates disappeared off the calendar, I was working on my follow-up album to ImPossible I put out years ago and a friend of mine called me and said, 'Hey, do you have any music for this project I'm working with Scholastic on?'" she tells BET.com during a recent interview, explaining how she had put out a song called "I Can Be Anything" years before. "I sent him like four tracks, he showed it to Scholastic, and they loved it. So they wanted to make two books out of it, and I thought, Oh my God. I'm about to have two kids' books come out. I should make a record."
Those records, and subsequent work with Scholastic, eventually led to her 2021 children's debut Ready Set Go! – an eight-song project featuring herself singing with her participating Divi Roxx Kids and numerous other musicians, including Bahamadia, Alphabet Rockers, and 123 Andrés.
Fast forward to late 2022, and the announcement that she was up for a Grammy, the Atlanta native says she was nearly in disbelief the entire time prior to her name being called.
"We were watching YouTube and I'm sitting here with my wife and I cannot describe the feeling I had. Every single molecule in my body was vibrating, my stomach was churning," she recalls. "I was like, I'm gonna make a video of this. I want to mark this moment. All the color had left my face and I was just sitting there as a pure spirit watching. Ledisi was the person who announced our category, and as she read the names, I was so excited for everybody else whose names I heard because I know all of them through the children's music space."
As the second Black woman nominated for "Best Children's Album," Divinity says it's a long time coming and hopes that her nod alone will provide visibility for other women of color to believe they too can successfully create music in the space.
"It's an honor... but it's almost embarrassing because it's 2023 and it raises the question: How come other Black women have not been exposed to this genre in a way where they felt it was accessible to them?" she relays. "I do hope that just my nomination alone encourages other young Black women to create music for children. I think we all need to be creating music for children with them in mind."
One of Roxx's main focus with Ready Set Go!  is to use music as a medium for kids to not only get a taste for it but also learn from it.
"I think it helps to build empathy; it helps us get in touch with our emotions; it helps us to understand what words can't help us understand," she explains. "Music is the language that we use when words fail and there will be times when words will fail, but music will help us get through. I think it's really important at an early age to develop that language. It's all around us anyway."
As for her own inspiration, Roxx notes that folk singer Ella Jenkins, dubbed "The First Lady of the Children's Folk Song" and the first Black woman nominated for a Grammy in her space, was instrumental in how she approached making music for a younger audience.
"Ella thrived as a folk artist under the radar," she explains. "It means so much to me, because Black people did not give her props, and she was a proud Black woman. She was operating in a space where Black people didn't really operate in folk music but she continued to represent and be who she was, remaining true to herself and true to her mission."
Divinity Roxx herself has encountered some of the greatest musicians in their respective spaces. Over the past 30 years, she's heeded the mentorship of five-time Grammy Award-winning bassist, songwriter, and producer Victor Wooten, and performed as a bass guitarist with Beyoncé in front of everyone from Barack and Michelle Obama to audiences of the BET Awards, MTV Music Awards, Ellen, The Oprah Winfrey Show, Saturday Night Live, Good Morning America, The Today Show, and so many more.
The lessons she learned from being the superstar singer's musical director, though, are more simple than one might think. They're also applicable to anyone who makes it big and is extremely serious about their craft.
"I was able to compose some music for some of [Beyoncé's] shows, but that came because I was able to sit back, observe what was happening and offer my services in a way that wasn't overbearing," Roxx explains. "Like when you work in an office you want your manager to see that you have other skills and you're like, Hey, I hear you need music for this. Can I try something?'
"I remember standing in a stadium once and I was looking around at all the people who were working the ticket takers, the crew, everybody in the venue in a stadium, and I was like, this woman who's standing right here on this stage is responsible for all of this," she adds. "How incredible is that? Pretty powerful."
When Sunday rolls around, regardless of whether she wins or doesn't, Divinity Roxx explains that her ultimate goal is to show the very audience she creates music for that they can do anything they put their minds to.
"I want kids to believe in themselves. I want them to believe that their dreams could really come true," she says. "With a lot of hard work, a lot of persistence, a lot of belief, and a lot of faith. Mom always says, 'Always expect a miracle.' So I want other people to believe that too."
Purchase Divinity Roxx's album Ready Set Go! here.