#Unboxed Vol. 7: Madison McFerrin's Upcoming Debut Album Is The Result Of Trauma And Triumph
The singer-songwriter and producer is finally ready for her close-up after surviving some intense life experiences.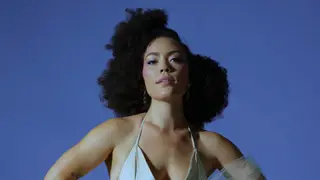 Madison McFerrin has some legendary lineage but it isn't the sole motivating factor in regards to her own professional career in music.
The engaging singer-songwriter and producer knew early on that music was her calling, and while the immaculate melodies and instrumentation were present during her early life thanks to her father, jazz and folk legend Bobby McFerrin, she could've just as easily sought a more normal career if desired.
"My parents would have been happy with whatever life trajectory I had chosen," McFerrin told BET during a recent interview. "I think when you have the example of someone having so much fun doing what they're doing and living and sustaining a healthy lifestyle for themselves and their family; and all the while being a great parent, I think as a little kid, you're just kind of like, 'Oh, This is an option. I can do this. I really like doing this."
Born in San Francisco, McFerrin grew up all-across America with stops in Minneapolis, Philadelphia, Boston and New York. But no matter where she called home, music was always present in her life in one way or another.
"I was definitely a kid that was growing up listening to a lot of top 40 radio, and I think growing up in the early aughts and at a time when like pop radio was pretty awesome," she describes. "I feel like there was a nice conjecture of all of the different styles of music that could be in the Top 10 Billboard or whatever it was like there was so much happening."
Madison has been creating music nearly all her life and done so professionally for a while now too. Her self-proclaimed "fiercely independent" career has so far seen her release three EPs and multiple collaborations. Her style has traditionally celebrated her vocal acumen with much of her music featuring her singing a capella and performances touting her as a one-woman band with a conscientious mix of showmanship and astute technique.
It's performing live that McFerrin says she missed the most during the COVID-19 pandemic. After taking the stage at sold out shows in Brooklyn, Oakland and Los Angeles in late January, she explains how her connection with an audience who loves what she does enriches her spirit.
"It just feels so amazing to get back and be with people. There's nothing like the energy exchange for me personally that you get when you're on stage with a great audience," McFerrin says. "It can make you feel so many different things. Being on stage is a place where I almost feel like I zone out into some meditative space that nourishes my soul and it all has to do with this dynamic and interaction with sharing that energy with other people."
Madison has been recording new music since the pandemic first hit the United States and even released songs here and there when she felt the need to. Just over a month after former Minneapolis police officer Derek Chauvin was found guilty of murdering George Floyd in April 2021, she dropped "GUILTY" – an audio/visual release that relayed her contemporaneous thoughts about the landmark verdict.
"That m*****f*****'s guilty," she sings repetitively, first in a capella before the beat drops with the song eventually turning into a house format of sorts. While simple, it's the sheer rarity that such a verdict for a white police officer killing an unarmed Black man that perhaps rendered more emotions than anything spoken.
"it's like this level of elation and joy, which is unfortunate because this shouldn't be such a rare thing that when somebody who clearly was guilty gets found guilty there's some justice that's happening," she explains. "Those moments shouldn't be so far and few between that when it happens, we're like, 'Yeah, somebody's going to jail.'"
That sort of introspective songwriting has also played itself out in some of McFerrin's most recent music. Late last month, she released the second single off of her upcoming album titled "(Please Don't) Leave Me Now." The song is about surviving a traumatic near-death car accident that nearly took her life in 2021 and how she wasn't ready to die, forgoing her full purpose on Earth.
"Being able to walk away from a near-death experience without physical harm is one of the greatest blessings I've received in this life," she explains. "It reaffirmed my purpose as an artist. Writing '(Please Don't) Leave Me Now' became an incredibly therapeutic and cathartic experience. Being able to express that kind of fear while still creating a fun environment was key to making this song."
Now, Madison McFerrin is ready to release her debut full-length album – and it couldn't be coming at a more perfect time. Along with the release of "(Please Don't) Leave Me Now," she announced her I Hope You Can Forgive Me LP and its May 12 release date. The project has been years in the making and is mostly produced by McFerrin herself. It's a process that began with little direction but ended with a full dose of purpose.
Madison notes that she, along with many of her contemporaries, believed 2020 would be the year that would change everything for her musically. Coming off of a 2019 that was stacked with touring and a growing fanbase, she says the COVID-19 pandemic killed almost all of that momentum, causing her to focus on creating at home.
"It was just total stand still and that was really scary," she describes. "I'm just thinking about all the advice that I didn't take and all of the things that I could have done where maybe I would have been ahead of the game on. If I had just gotten out of my own fears and anxieties and just like done it. Now look at me, I'm like, who knows if we're ever going to get out of this?"
Those scary thoughts, mixed with a newfound presence of extra time to herself, helped McFerrin gain her producer chops – first by playing around with Ableton on her computer, and eventually the result: a fully-fleshed out project set to drop as America and the world looks to finally move on from the trauma that was the pandemic.
"I started playing around and was having a lot of fun doing it and it was a place for me to put my creative energy that had been used for performing in past touring and all this stuff," she says. "I had all this energy that needed to go somewhere and it went to producing and cooking."
Overall, I Hope You Can Forgive Me will be a reintroduction of Madison McFerrin of sorts. But it's also the culmination of life lessons and experiences she gained over the past three years that will shine through on the effort.
"It's an exploration of me being able to expand my musicality and my creativity in a new space," she says of the LP. "At the end of the day, I really want my vocal harmonies to shine and that can still happen with other production and not just the voice. So yeah, I went out to challenge myself and I did it."
Preorder Madison McFerrin's I Hope You Can Forgive Me here.