#OnTheVerge: Scar Lip Is Looking To Follow Up 'This Is New York' and She Has the Ammunition To Do So
The Bronx rapper's forthcoming new single "No Statements" drops Friday.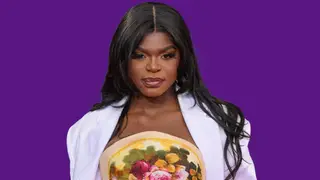 To say Scar Lip is New York's it-girl at the moment is certainly not an understatement. However, the journey to becoming such has been extended, trying, and painful.
By way of The Bronx and Brooklyn, the 22-year-old lost her mother at 12 after being involved in a hit-and-run car accident. That preceded an incident during which her older brother punched her in the mouth, causing the injury she would later use as inspiration for her rap moniker and years of bouncing through foster homes in the Big Apple and Pennsylvania.
Through the harsh adversity placed upon her while she was growing up, creative expression was an outlet for Scar Lip to process and channel it. Initially wanting to become an actor, she notes that her natural disposition helped her early on.
"I always had that personality, that outgoing charisma, so that really helped because my personality was already charismatic and so it helped my music as well," she told BET during a recent interview. "Because not only am I an artist, I'm also an entertainer. A personality."
After being inspired by her uncles, who casually rapped around her during her childhood and DMX, her biggest musical north star, Scar began thinking about taking hip-hop seriously, with many of her earliest songs detailing some of the trauma she faced growing up. Her 2019 song "Foster Care" does just that, describing how the system strained her mental health, the passing of her mother, and the failure to treat the feelings of despair and emptiness she felt honestly.
For Scar Lip, sharing her story was key for both the self-confirmation that she was good at rapping, more importantly, the therapy of relaying her story to people who may have gone through a similar upbringing.
"It made me feel like I had a purpose, to inspire people to keep going because not only was I inspiring people, I was inspiring myself at the time," she says of the 2019 track and similar ones. "I was still in the system at the time when I was sharing my poetry. I'm like, I'm gonna keep doing it because people looking up to me, they need this, so I'm gonna keep giving it to them."
From there, Scar Lip continued to record and release music before getting her first viral hit with "Glizzy Gobbler" – a song about haters who d**k ride after all but counting someone out. The video for the drill-inspired track also relayed much of Scar's enigmatic personality and her ability to act.
In the video, Scar Lip operates a food truck as a shirtless man walks up to the front of the line by ditching everyone and demanding "20 glizzys." The whole thing then breaks out into the meaning behind the metaphor, which she says comes from her ability to be a "marketing genius."
Just four months after "Glizzy Gobbler" hit streaming, Scar Lip landed on her biggest breakout track – the April premiered "This Is New York." The song and visual unapologetically reach for Big Apple stereotypes while painting a harrowing image of life for many in New York. For East Coast hip-hop heads, everything about the song is ambrosia to their ears.
The straightforward nature and flawless execution of "This Is New York," along with the admirers around New York like Swizz Beats, Busta Rhymes, and 50 Cent, has placed Scar Lip as a center of attention around her hometown. Earlier this month, GloRilla brought the rapper out during her set at Madison Square Garden while she was opening up for Lil Baby, and it had the crowd going wild. It's a moment she says she's been working toward and honored to experience.
"It was an honor to be in the same room as GloRilla. These people are people that I watch and look up to and really want to be successful like them," she describes. "So when I got the opportunity to be next to her, I just thought like, Yo, I'm really doing it. I'm really making it. I'm really becoming something."
Scar Lip looks to pivot the success she's attained since "This Is New York" and grow her national reach. On Friday (September 15), she'll drop her first single since the April smash with "No Statements," which has her coming to terms with her rough past, but also, her excited foray into the future – no stone left unturned.
"Hip-hop is different. I gotta make catchy songs, but I also know I want to put them bars in it. So I really enjoyed the verses like, [when I rap]: "The scar on my lips don't bother me / And that's why he looked at me awkwardly." I'm just embracing my scar, embracing my imperfections. I'm embracing my flaws. It's just really the raw and uncut me like, Yeah, you heard 'This Is New York,' but now you're about to hear 'No Statements.'"