#OnTheVerge: Cash Cobain Is The Sound Behind Hip-Hop's Next Up, Including Himself.
The Bronx producer-rapper's ear for obscure samples from music and film helps him standout from an often homogenous rap landscape.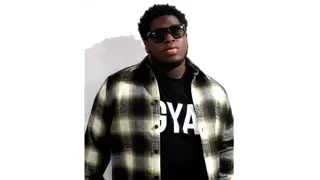 As Hip-Hop's 50th year in existence is being celebrated all around the country, most of the events surrounding it have taken place in New York City. But while generations upon generations of emcees, producers, and others have made the culture's birthplace a continual stronghold of the its musical aspect, currently the city is in transition.
Between the drill scenes of Brooklyn and The Bronx, a somewhat fledgling string of artists who adhere to more traditional hip-hop, and the releases of mainstays who have been in the game for a while, there isn't one definitive sound currently dominating the marketplace. It's open season for that next wave of great artists, and Cash Cobain is one of those throwing his hat in.
The Bronx native has been active since his ascension in hip-hop, which primarily began in 2017 – typically working with mainstays that fit into his sound, whether that be New York's Shawny Binladen, FLEE, and Chow Lee or Chicago's LUCKI. But more recently, he's established production credits for Lil Yachty and Central Cee, two artists who themselves are often on the hunt for the freshest sounds hip-hop has to offer.
The 25-year-old is steadily making noise in the music industry as of late with his Slizzy movement, which has become a fixture in the tri-state area through his own singles like "JHoliday" and "Slizzy Talk."
Meeting up with Cobain at 375 Showroom in New York's Lower East Side, with his mom in-tow right behind him, the producer walked past rows upon rows of unique pieces by Celine, Balenciaga, and Casablanca to the back where he dapped up store employees, photographers and those simply spending a Thursday afternoon at the shop. It's his mother though that has been a constant supporter of his, especially since music plays a big role in their household growing up.
"[My] family, they love music like on a different level, my whole family," Cobain told BET. "So just growing up, around them and around The Bronx where hip-hop started, I wanted to make music. I wanted to create beats. So that's why I started off making beats."
At first, Cobain began creating music using a demo version of FL Studio so primitive he wasn't even able to save his work after creating it. Later on, he moved to using a bootleg and more recent version of the beat-making software. Regardless, his ear for samples provided him the ability to create extremely unique instrumentals simply through YouTube videos of older hits and dialogue from movies.
"I don't like nobody telling me the simple stuff and I don't like it," Cobain explains, noting he doesn't use vinyl records in the process of his beatmaking. "Once I'm hearing an older song, like an element or part that I like, that I know I can sample, I'll use it. I ain't know how to use VSTs or anything, I started off with sampling."
More recently, Cobain has been focused on dipping into his own artistry on the mic. A pioneer of New York's sexy drill genre, he's been able to tune up a raunchier and smoother side of The Bronx's most current sound while toning down the more agressive and violent nature it typically offers.
"I can tell that I carve my own sound because after I come up with a 'JHoliday," everybody start coming up with a beat [like that]," he says. "I feel like producers don't listen to my music to hear me rap, they listen for whatever new beat I try to make."
In 2021, Cobain released his debut full-length project Nirvana, which was followed a year later by SLIZZY TIMING and 2 SLIZZY 2 SEXY with frequent collaborator Chow Lee. The albums themselves have garnered Cobain attention as a rapper, which is something he's looking to cash in on (no pun intended) via his highly-anticipated new forthcoming album Pretty Girls Love Slizzy. Due out next month, the project will be his most concise offering and fuller introduction of sorts to Cash Cobain the producer, and rapper.
Also on the way are some of Cobain's biggest collaborations to-date. And while he couldn't go into specifics, just know that his famed "and this beat from Cash not from YouTube" tag will start off some pretty huge songs as the year and his career treks on.
"[These collaborations] made me feel like this was destined for me, this is what I need to be doing," he explains. "God works in mysterious ways. There's so much s**t out there to f**k with, it's crazy that they choose [to work with me]. It's surreal, and this is just the start."