International Women's Day: 10 Artists For Your Playlists
Check out these up-and-coming artists from around the world for International Women's Day.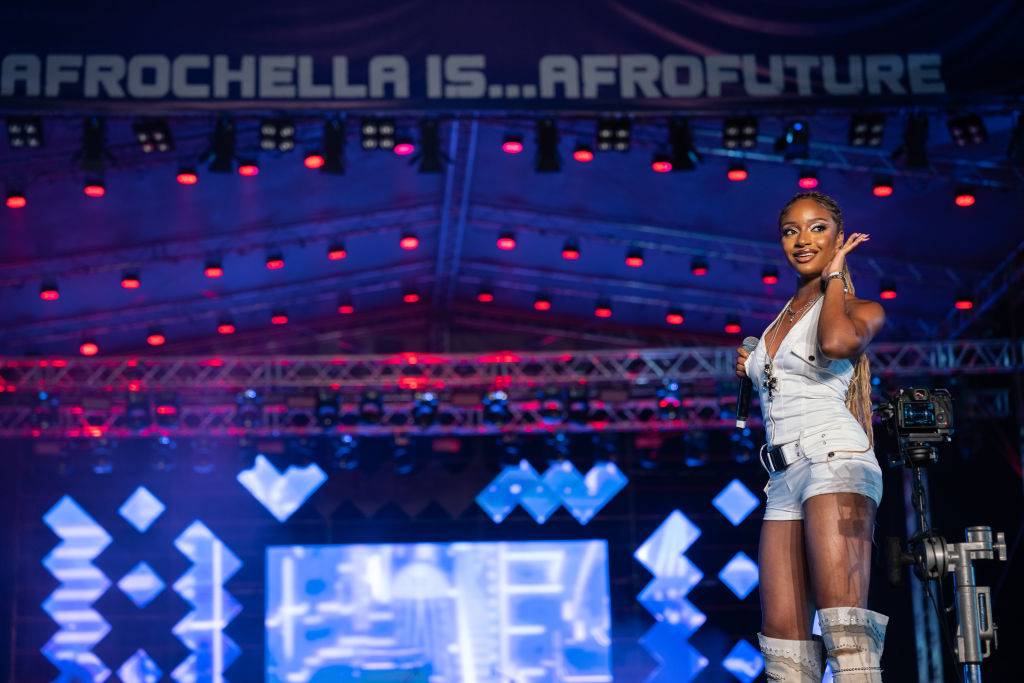 As we celebrate International Women's Day, BET is proud to shine a light on 10 extraordinary female artists from around the globe. From the vibrant beats of Africa to the sultry sounds of South America and the far-reaching melodies of Asia, we're showcasing the power and diversity of hip-hop and R&B across the diaspora. Join us in discovering these remarkable women, as they boldly pave the way and leave their mark on the music industry.
Ayra Starr - Benin Nigeria

Born in Edo State, Ayra Starr is a Nigerian afrobeats artist you may have heard accompanying Libianca — a second-generation Ghanian from Minneapolis, Minnesota — on her 2022 breakout single "People" (Check on Me).

Sista Afia - Ghana

Sista Afia is a Ghanaian artist not new to the limelight, with her first hits "Kro Kro No" and ​​"Jeje" dating more than eight years back.

Being that Afia's first studio album, Queen Solomon, wasn't released until 2018, fans have yet seen all that the R&B artist has to offer. Check out her newest single, "Carry Go", which was released this year.

PinkPantheress

Public consciousness couldn't hide from this 21-year-old UK singer if it tried, as her single, "Boys a liar Pt.2" featuring Ice Spice has been dominating charts, streaming and TikTok for most of 2023.

Scuti - South London

While her biggest hit to date, "Skoowup", came in 2019, she has all but scratched the surface. She released the popular single "Huh" and an EP This is Skoo in 2020. Make sure you check out her latest Intoxication, which came out in 2022.

Nicki Nicole - Argentina

This 22-year-old Argentine rapper and singer has accomplished a lot since emerging on the scene in 2019. She's already amassed three Argentinian Top 10 singles, and millions of YouTube streams and has earned a Latin Grammy nomination in 2020. 

From freestyle battles at the age of 17 to uploading music on Youtube to only 30 subscribers, Nicki is a true come-up story. Watch her perform a medley of "Wapo Traketero" and "No Toque Mi Naik" with special guest Lunay for The Tonight Show.

Goyo - Colombia

Blending in variations of Afro-Caribbean rhythms with pop melodies and rap, she and her band offer a variety of salsa unlike anyone has ever heard. Check out their song "Pa Olvidarte" featuring Zion & Lennox and Farruko as well as Becky G on "Que Me Baile."

Shenseea - Jamaica

Although she came onto the scene as early as 2016, with Vybz Kartel's song "Loodi", it wasn't until "ShengYang Anthem" in 2018 and "Blessed" featuring Tyga in 2019, that she gained commercial success.

Koffee - Jamaica

Two years later, she delivered what some are calling one of the best Reggae projects ofin the last decade with her EP Rapture, which won Best Reggae Album at the 62nd Annual Grammy Awards. Check out her sophomore effort, Gifted (2022) to see what she's up to now.

Danupha "Minnie" Kanateerakul - Thailand

If you don't know who  Danupha "Minnie" Kanateerakul, aka Milli, is, it's time you get familiar. Not only is she the first Thai solo artist to take the stage at Coachella, but the 19-year-old rapper is considered the "the rap queen of Thailand" after her debut Thai rap song, "พักก่อน" (Pakkorn / You Need to Calm Down)" went viral back in 2020.

Make sure you check out her debut album, Babb Bum Bum, which features the sass and flair that catapulted her to fame.

CL - South Korea

Born Lee Chae-rin, CL, is a K-pop rapper from Seoul, South Korea, who first got her start in music as a member of the k-pop band 2ne1. She would go on to launch her solo career in 2016, declaring herself as "The baddest female" in Korea, eventually crossing over the U.S.

Although her career has not fully materialized the way she'd hoped since launching her solo career, CL is still putting on Korean rap. Her latest album, Alpha (2021), has a lead single, "Spicy" that shows off her rapping skills.