Teddy Riley And Babyface 'VERZUZ' Battle Has Been Rescheduled
They're giving it one more try after Saturday's technical difficulties.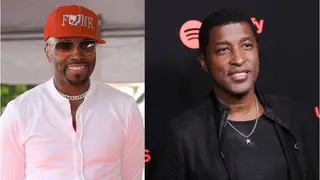 The show will go on. After a series of "technical difficulties" derailed the highly-anticipated battle between Babyface and Teddy Riley on Saturday night, the two will face off this Monday (April 20) at 8pm EST on Instagram Live.
Swizz Beatz shared the news on Sunday (April 19). "Less will be more and sounds will be fixed," he assures.
The highly anticipated Instagram Live battle between legendary producers Kenny "Babyface" Edmonds and Teddy Riley didn't go as planned.
Drawing more than 400,000 viewers at 9 p.m. EST on Saturday evening (April 19), it was supposed to be an illustrious evening courtesy of the Timbaland and Swizz Beatz Verzuz IG Live series. 
Past producer battles generally feature the celebrity musical geniuses tuning in from their respective home studios with just their smart phones and their studio speakers to play 20 rounds of their critically acclaimed hits. Babyface showed up following the usual protocol but it was Riley who came prepared for a concert with a DJ, live drummer set, hype man, studio lights, and multiple mics.
Barely making it to three rounds each, viewers hopped in the comments unsatisfied with Riley's playback and mic echoes. The battle was stopped to correct the technical difficulties. However, shortly after restarting, the battle ended 45 minutes after it started with less than half of the rounds finished. 
Riley asked viewers to come back at 10:30 p.m. for a do-over but Babyface recommended that it would be better to postpone.
"Tonight was really special… it's only right that we postpone this thing and do it at a time when there aren't technical difficulties and everybody can hear the music the way it needs to be heard," he said. 
Riley later explained on his Instagram that the battle was "just like a boxing match" and that it was inevitable that a re-match had to happen.

Co-creators Swizz Beatz and Timbaland talked about why the night went up in flames, saying less is more in Riley's case and the concert set-up was not necessary. Watch below:

With a new date for the quintessential battle on the horizon, we are sure the award-winning producers will give us the battle we can't wait to see.