0-4 Westbrook-Less Lakers Have Social Media Either Hating Or Laughing At Them
The team is among the worst in the NBA during its first four games.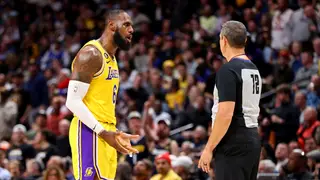 There's no sugar-coating it: the Los Angeles Lakers are struggling to open the new NBA season, going winless in their first four contests.
Much of their struggles have to do with shooting, as they hit only 8-of-30 from 3 on Wednesday (Oct. 26) against the Denver Nuggets and have been the worst team in the league from behind the arch in an NBA landscape where 3s are key.
In fact, during their first three games, Los Angeles didn't even manage to top 25 percent from 3. So when asked about Wednesday's 26.7 percent effort against Denver, Lakers point guard Patrick Beverley said his team "got better."
Additionally, guard Russell Westbrook was on the floor for Los Angeles for their first two games, which many blamed for the team's poor shooting and chemistry issues early on. So when he was out again on Wednesday, excuses over the team's poor play became even more thin.
And while the season is still very young, it's not stopping Lakers fans and the rest of the NBA landscape to lose it on social media – whether in a good or bad way.
Jokes came in from those reveling in the team's misery:
Lakers fans just lamented their frustration:
And then there's just the rest of the league being unbothered:
The Lakers take on the Minnesota Timberwolves Friday (Oct. 28)  at 8 p.m. in Minneapolis, hoping to steer the ship in another direction.