Jeezy Opens Up About Divorce From Jeannie Mai
"I'm saddened, I'm disappointed, I'm uneasy," the rapper said.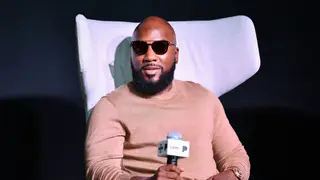 Jeezy is sharing more insight into his divorce from Jeannie Mai.
During a wide-ranging interview led by Nia Long released on Tuesday (Nov. 7), the "Put On" rapper spoke candidly about his separation from the TV host after two years of marriage.
"This has not been an easy journey," he said. "I'm saddened, I'm disappointed, I'm uneasy."
Still, he assures this is a faith walk.
"God has put me in a different path and that path is going to entail for me to take care of myself and to love myself and to be in the best situation where I can thrive."
When asked if he had gone to therapy with Mai to work on their relationship, Jezzy said, "Yeah."
He continued, "I don't like to fail at anything," while adding, "I can only be responsible for myself and I can only do what I can do. I can't expect someone else to do what I am doing."
In September, the ATL rapper filed for divorce from Mai. The couple exchanged vows at their Atlanta home in March 2021. They are also parents to a one-year-old daughter, Monaco Mai-Jenkins, for which he is seeking joint legal custody, according to AJC. Mai has secured family lawyer Randall Kessler as her attorney who has represented numerous Atlanta-based celebrities in their divorce and custody proceedings.
Last month, Jeezy released a statement on this life-changing moment.
"The decision to end this chapter in my life was not made impulsively and comes with a heavy heart," the "Soul Survivor" rapper said in a statement released on Thursday (October 19), as reported by The Source. "Despite this, my love and respect for Jeannie remains and the time we spent together holds a cherished place in my heart."
"I'm taking it day by day," she told the outlet.
"Right now, I'm just focusing on Monaco and focusing on things I am passionate about."
"I'm not gonna lie. It takes every day to just really sit and just be quiet in your thoughts, [to] take care of me," she told host Sherri Shepherd. "But one thing I know is, you give God your pain, he will give you his power. Period. So every day I'm like, 'Here you go, you got room for more?'"