Taraji P. Henson, Chris Paul Join 18-Member Biden HBCU Board
The 18 advisors have backgrounds in education, business and the sports and entertainment industry.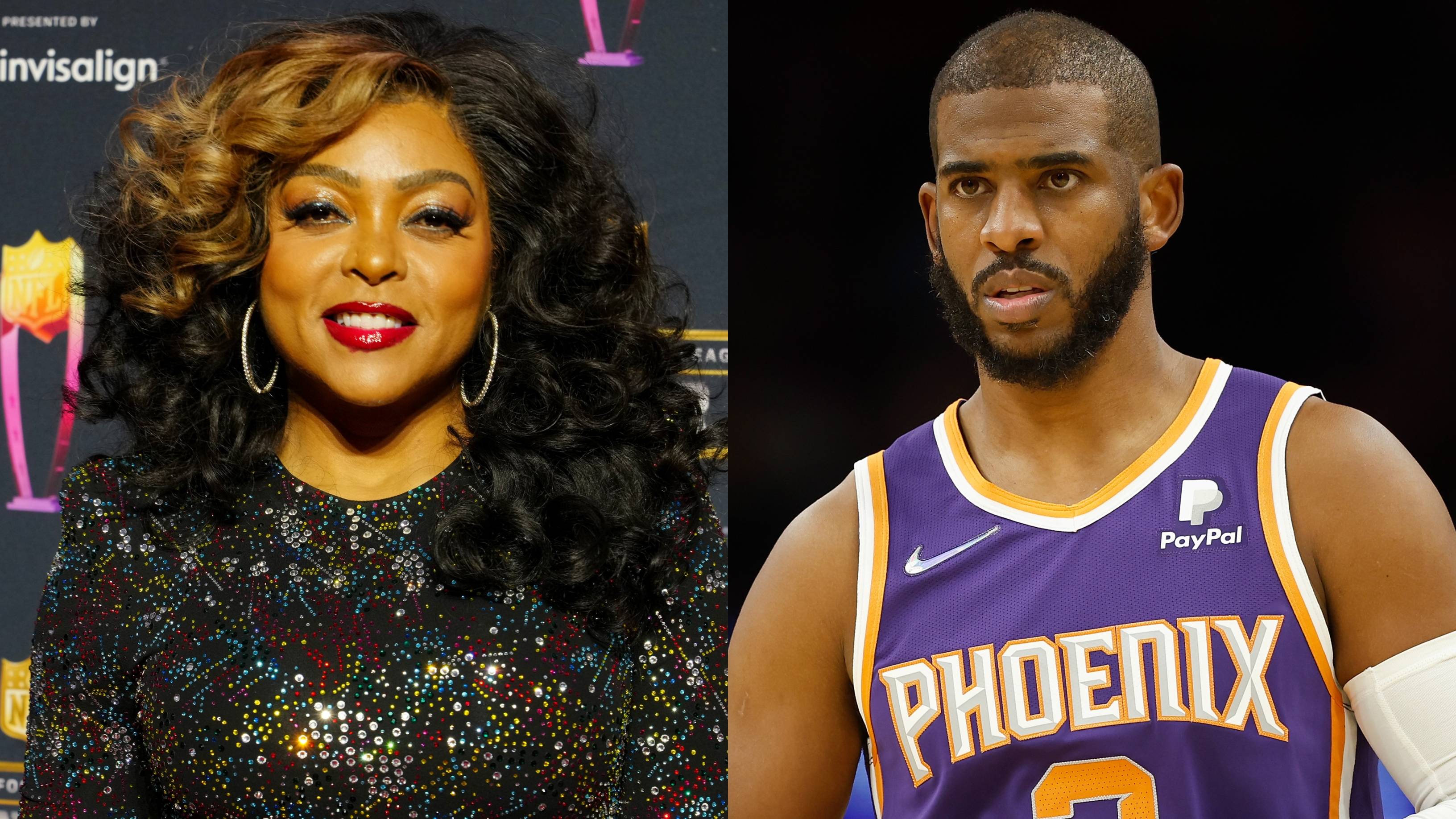 Actress Taraji P. Henson and NBA superstar Chris Paul will join 16 other appointees to President Biden's new board of advisors on Historically Black Colleges and Universities (HBCUs).
The board is comprised of representatives from HBCUs and other higher learning and secondary education institutions, business and financial institutions, and private foundations.
"I am excited to announce that President Biden has appointed me to serve on his HBCU Board of Advisors. Since taking office, the President and Vice President Harris have invested $5.8 Billion in HBCUs and I look forward to working with them to continue efforts to support these important institutions," said Henson, a Howard University graduate, in an Instagram post.
Paul, a point guard for the Phoenix Suns, also expressed his gratitude for being selected for the board.
"Incredibly humbled to be appointed to President Biden's HBCU Board of Advisors. Looking forward to working with this amazing group to continue to elevate these historical institutions," he posted on Twitter.
A White House statement said the administration is "committed to supporting the vital mission of HBCUs." It highlighted the administration's efforts to support HBCUs through the American Rescue Plan, grant funding, and forgiving the capital improvement debt of many of the institutions. The Biden-Harris administration has committed more than $5.8 billion in support.
In February, Biden appointed Dr. Dietra Trent as executive director of the White House HBCU Initiative. The president also announced in September an executive order on the White House Initiative on Advancing Education Equality, Excellence, and Economic Opportunity through HBCU.
"Having already invested an unprecedented $5.8 B in our institutions, the President, the Vice President, and the entire Biden administration have been clear on their dedication to HBCUs in word and deed," Allen stated. " And they are just beginning. We all look forward to our continued work with the Administration and with this exceptional group of Americans."
Dr. Tony Allen, president of Delaware State University, who Biden appointed to serve as board chair called it "an eclectic mix of the talent and commitment that defines Historically Black College and Universities (HBCUs) and those who recognize our tremendous value in higher education and in a smaller, more connected global community."
Tennessee State University president Dr. Glenda Glover will serve as vice chair.
The board is comprised of representatives from HBCUs and other higher learning and secondary education institutions, business and financial institutions, and private foundations. 
The list of 18 board members are as follows:
Makola M. Abdullah is the 14th president of Virginia State University (VSU). He was previously the provost and senior vice president at Bethune-Cookman University.
Javaune Adams-Gaston serves as the seventh president of Norfolk State University and previously as senior vice president for student life at the Ohio State University.
Paige Blake, a junior at Bowie State University, is a biology major on the pre-med track.
Thasunda Brown Duckett is the president and CEO of the financial services company TIAA. Duckett was previously the CEO of Chase Consumer Banking.
Willie A. Deese has decades of corporate experience in the pharmaceutical industry, including as executive vice president of manufacturing at Merck and Co. Inc.
Patrick Cokley focuses on issues of inclusion in his role as chief of organizing advocacy and learning at the nonprofit organization Civic Influencers.
Monica Goldson, a longtime advocate for public education, is the CEO of Prince George's County Public Schools in Maryland.
Brett Hart is the president of United Airlines and serves on several Chicago-based boards, including World Business Chicago and the Obama Foundation Inclusion Council.
Taraji P. Henson, an award-winning actress, is a mental health advocate through her Boris Lawrence Henson Foundation, which provides scholarships to African American students and mental health services at urban schools.
Beverly W. Hogan is the retired president emeritus of Tougaloo College and a national voice for higher education.
Lisa P. Jackson is Apple's vice president of environment, policy and social Initiatives. Jackson helps promote the company's HBCU initiatives.
Shevrin Jones, a Florida state senator, is a former high school chemistry teacher who advocates for education as a legislator.
Walter M. Kimbrough serves as the seventh president of Dillard University. Previously, he was the 12th president of Philander Smith College.
William F. L. Moses is the managing director for the Kresge Foundation's Education Program, which supports postsecondary access and success for low-income, first-generation and underrepresented students in the United States and South Africa.
Christopher Paul, a perennial  NBA All-Star, advocates for HBCUs through his Chris Paul Family Foundation.
Quinton T. Ross Jr., president of Alabama State University, is a former Alabama state senator and K-12 educator.
Ruth J. Simmons is the current president of Prairie View A&M University and former president of Smith College and President of Brown University.
Janeen Uzzell serves as CEO at the National Society of Black Engineers (NSBE), the largest Black STEM community impacting society and industry.