Gabrielle Union Says Most Black Celebs Are 'One Or Two Checks' Away From Running Out Of Money
"I think this quarantine is really revealing a lot."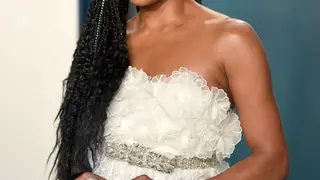 Those working in the entertainment industry have not escaped the economic devastation caused by the coronavirus pandemic.
During the COVID-19 shutdown, many Black entertainers are just a couple of paychecks away from financial ruin, Gabrielle Union explained during an Instagram Live session with model Sharam Diniz.
"For all of the Oprah's and the people who have just a lot a lot a lot a lot of money, most of us are one or two checks away from not having money to pay for all of our things, you know what I mean? So this stoppage of work and money is impacting marginalized celebrities the most," she said.
The actress continued: "I think a lot of people need to understand the difference between fame and having money. And I think this quarantine is really revealing a lot in terms of – there's a lot of people who are famous that don't have wealth." 
To ensure her comments wouldn't be taken out of context, Union took to Twitter to further explain that she spoke up in hopes that her words would shed light on perception versus reality when it comes to fame and financial security:
Hollywood celebrities are far from alone. Many NBA players are also feeling the financial pinch, according to CJ McCollum, a Portland Trail Blazers player and a vice president for the NBA players association.  
"I would say out of 450 players … 150 probably are living paycheck to paycheck," McCollum said on April 6 during The Boardroom with former NBA player Jay Williams.