Health Hero: GirlTrek Walks for Health and Sisterhood
GirlTrek brings Black women together to heal emotionally and physically.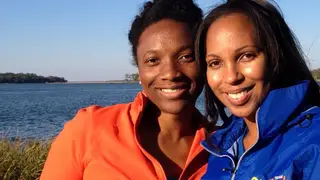 When Tanya Morgan Dixon and Vanessa Garrison met while working at an investment bank in Los Angeles, taking walks together helped them bond as friends, but also to help deal with the stress of their jobs. Neither one imagined that those hikes would have turned into GirlTrek, an organization founded in 2010 that focuses on encouraging Black women to be physically active and to make health a priority in their lives.
But it's important to point out that GirlTrek isn't just about walking. Its vision is steeped in a commitment to our history. Earlier this month, thousands of Black women walked to honor Harriet Tubman Day as a means to show homage to this revolutionary woman. BET.com sat down with Morgan-Dixon and Garrison to talk about why walking is good for us, why it's more than just exercise and the importance of Black women taking time for themselves. 
Garrison: It's for anyone. But when we first started, we realized that there wasn't anything for women who didn't have a gym membership or a group that wasn't for someone not training for a marathon or for women who wanted to be inspired by service. And so GirlTrek challenges women to link up with other women, create teams and walk together to create community. 
What we know is that the impact is real. Over the last 3.5 years, we hear testimonies about how GirlTrek has helped other Black women re-envision what their life could be and look like. 
Morgan Dixon: We come from a long list of Black women that decided they were going to be the agents of change in their lives and communities. Harriet Tubman embodies that for all of us. But we don't just walk for Harriet, we walk for the other Harriets, the Fannie Lou Hamers and the many others who were and are courageous in taking control of their lives and destinies. Plus, if we don't celebrate our heroes who will? 
How can walking improve our overall health?
Garrison: Our core goal is to get women to walk 30 minutes for five days a week. And we know that by doing this, our entire constitution changes. A 20-minute walk can even get our brain going and improve our mood and mental health. Just walking and laughing and friends can make all of the difference, not to mention these walks with friends can be a means of checking in on each other and making us accountable for our fitness goals.
What can young girls and women do to reclaim their health?
Morgan Dixon: First, before we can talk about health and physical fitness, we have to find something to be healthy for. That happens when you ask yourself, "What do you care about?" And whatever that is, your health journey begins with that.
Garrison: Stop setting yourself for failure by working yourself to death. We're told that we need to be strong Black women and put everyone's needs before ours, so make sure you give yourself that time to just walk, workout, whatever.
Morgan Dixon: Exactly! We live in a world that is always going to expect you to take care of other people instead of yourself. And so this notion of self-care is an revolutionary act, but a necessary one, because we need you to be around.
BET Health News - We go beyond the music and entertainment world to bring you important medical information and health-related tips of special relevance to Blacks in the U.S. and around the world. Click here to subscribe to our newsletter. 
(Photo: Courtesy of GirlTrek)