"Heartless": People Are Slamming The GOP Tax Overhaul Bill As "#TaxScam" Trends On Twitter
"The 'Tea Party' wasn't about the deficit, it was just about the black president."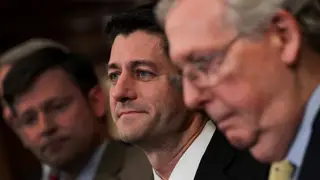 Senate Republicans just passed a tax overhaul bill that will affect everyone in America, and unless you're rich, get ready to pay up.
As if the wealth gap in the United States wasn't already wide enough, GOP lawmakers, in a back room, late Friday night, without any opportunity to even read what's in the bill by anyone besides themselves, passed one of the biggest pieces of tax legislation in history.

The 51-49 vote moves the bill to Donald Trump's desk for signing, which of course he'll sign to finally give him a "victory."

"We are one step closer to delivering MASSIVE tax cuts for working families across America," Trump tweeted after learning the news. "Special thanks to @SenateMajLdr Mitch McConnell and Chairman @SenOrrinHatch for shepherding our bill through the Senate. Look forward to signing a final bill before Christmas!"

Final alterations were still being made to the bill with handwritten notes being snuck into the 479 pages. Democrats and most economists claim the bill only helps the richest Americans and $1.5 trillion over 10 years will be added to the $20 trillion national debt.

Funny how, while Barack Obama was president, Republicans were so worried about "the deficit." Yeah, that was all BS. Social media also called that out as "#TaxScam" remains a trending topic on Twitter. See some of the reaction to the GOP's tax bill below.