About Time the NFL Acknowledges CTE
Brain disease found in 90 of 94 players examined.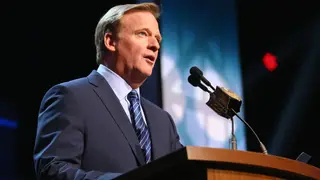 Even if it didn't come from commissioner Roger Goodell's mouth, the NFL has finally acknowledged the link between pro football and CTE (chronic traumatic encephalopathy), the devastating longterm brain disease. 
ESPN is reporting that during a roundtable discussion on concussions Monday at the U.S. House of Representatives in Washington, D.C., Jeff Miller, the NFL's senior vice president for health and safety, was asked if a link between football and neurodegenerative diseases like CTE have been declared.
"The answer to that question is certainly yes," Miller said, as reported by ESPN.
This comes after Dr. Ann McKee, a Boston University neuropathologist, diagnosed CTE in 90 of 94 former NFL players. (The brain disease can only be diagnosed posthumously.)
"I think the broader point, and the one that your question gets to, is what that necessarily means, and where do we go from here with that information," Miller also said to the House of Representatives.
The acknowledgment comes after Goodell repeatedly offered that he'd let the medical community decide about a possible link between football and CTE. 
It also comes after Super Bowl week last month, when Dr. Mitch Berger, a neurosurgeon who heads the NFL subcommittee on long-term brain injury, said that no connections between football and CTE have been established.
On Monday, Rep. Jan Schakowsky asked McKee and Miller to definitively answer about a connection between football and CTE.
"I unequivocally think there's a link between playing football and CTE," McKee said, as reported by ESPN. "We've seen it in 90 out of 94 NFL players whose brains we've examined, we've found it in 45 out of 55 college players and six out of 26 high school players. No, I don't think this represents how common this disease is in the living population, but the fact that over five years I've been able to accumulate this number of cases in football players, it cannot be rare. In fact, I think we are going to be surprised at how common it is."
Schakowsky then focused her attention on Miller. 
"Is there a link?" she said.
"Yes, sure," Miller responded.
Better late than never, NFL... even if it's not being addressed publicly by Goodell.
The question, though, is can the league do anything to make football safer and reduce the chances of CTE without compromising the game?
BET Sports News — Get the latest news and information about African-Americans in sports, including weekly recaps, celebrity news and photos of your favorite Black athletes.
(Photo: Allen Kee / ESPN Images)