T'Challa On Black Jeopardy Is The Funniest SNL Sketch In Ages
Even Wakandans know not to eat everyone's potato salad.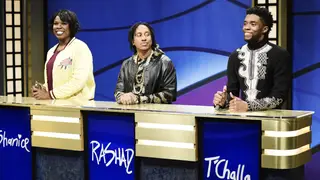 King T'Challa, ruler of Wakanda, has had to make some adjustments since opening his nation's borders to the outside world. While his family and friends were hoping to bring things like The Olympics or Starbucks to their nation, there hasn't been much upside to cultural exchange for them--until now.
In a perfectly written SNL sketch, host Chadwick Boseman plays a game of "Black Jeopardy" as Black Panther's T'Challa, who is trying to navigate his way around Black American culture. As he fumbles his way through categories like "Fid'na" and "Aww Hell Na," he finally finds his footing in the "White People" category, reasoning the lack of seasoning in some woman named Karen's potato salad.
"It is noble that she volunteer to cook for everyone. And although I have never had potato salad, I sense that this white woman does not season her food. And if she does, it is only with a tiny bit of salt and no paprika, and she will probably add something unnecessary like raisins. So I feel I should say, 'aw hell no, Karen. Keep your bland-ass potato salad to yourself."
Now if he brings this level of deductive reasoning in dealing with Thanos he may just make it out of Infinity War alive.
Of course, this has not been the first Black Panther-inspired sketch on SNL since it set records at the box office.  In fact, in his opening monologue, Boseman pokes fun at his co-star Sterling K. Brown getting to do a Black Panther Sketch before him and that there were only "bad ideas left."
"The writers were like, what about a talk show called 'Wake Up Wakanda!'" he quipped. "Or a sketch where Black Panther has sex with Leslie Jones." Neither of those happened, but you can watch his opening monologue below.