Supreme Court Abortion Ruling Draft: Here's What You Should Know
Once the news hit that there was potential that the landmark Roe v. Wade decision could be overturned, all hell broke loose and rightfully so.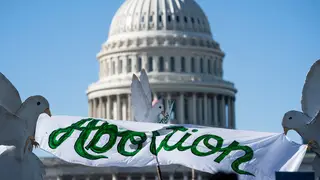 After POLITICO went public with a leaked copy of the Supreme Court ruling that would constitutionally strike down abortion rights in the United States, immediate backlash from supporters of Roe v. Wade resulted. Chief Justice John Roberts later confirmed on Tuesday (May 3) that the draft is indeed genuine and vowed an investigation into the leak.
While the justices determine who's at fault, the country needs to know that, for now, abortions are still legal and it will be a couple of months before the court officially issues its decision. In that time, the language and even the position of the justices could change. If by chance, the ruling stays as is, there will be specific implications worth knowing. Here's a breakdown of what you need to know.
THE ORIGIN
The court also held that the right to an abortion must be balanced by state law based on which trimester of pregnancy a woman is in. Generally, states would prohibit third trimester abortions although a handful do allow them.
In a 1992 decision, the court ruled in favor of Planned Parenthood of Southeastern Pennsylvania v. Casey, in which plaintiffs challenged five provisions of the state's 1982 Abortion Control Act, arguing that the Roe ruling made them unconstitutional. This further strengthened the original decision, but set the stage for decades (including some recent actions) of state-based legal challenges and state legislatures passing anti-abortion laws.
The case that led to the potential Supreme Court ruling is Dobbs v. Jackson (Miss.) Women's Health Organization. In 2018, Mississippi passed a law banning abortions after 15 weeks of pregnancy, with few exceptions. After challenges in the U.S. District Court, the state was barred from enforcing the law because it couldn't prove fetal viability after that stretch of time.  Mississippi took it to the Fifth Circuit U.S. Court of Appeals and lost. Eventually the state successfully petitioned to move the case to the U.S. Supreme Court.
The language on the potential ruling reads, in part: "We hold that Roe and Casey must be overruled. The Constitution makes no references to abortion, and no such right is implicitly protected by any constitutional provision including…the Due Process clause of the Fourteenth Amendment…"
THE CONCERNS
Reaction to the bombshell news that there is a potential for abortion rights to be turned back was stark and immediate. Multiple advocates spoke out loudly about the draft concerned about a reality where women could no longer seek abortions. Black women, women of color and poor women would likely have the most to lose because abortion services in the states that have instituted laws against them have made access much more difficult. They would also be forced to travel to states where they could seek services, despite the difficulty, if not impossibility, in doing so in some cases.
If the Supreme Court's draft turns into an end to Roe vs. Wade, it does not mean the end of legal abortion. Instead, the decision would be made within individual states on how and when pregnancies could be terminated. However, a number of state legislators and governors have made their stance clear and have passed laws that hinder the ability to obtain abortion services. Texas, Georgia, Louisiana, Wisconsin, Ohio and others with conservative majority legislatures or governors have all passed such acts. As many as 23 states could use the law to deny a woman's ability to receive a safe abortion and limit or prohibit abortion providers from giving services to women in need, according to a study from the Guttmacher Institute.
The 2022 midterm election is now about six months away and Democrats who now have a majority in the House, and a 50-50 split in the Senate, are trying to figure ways to prevent the loss of seats. Pro-choice politiicans will seek stronger support as the election could be seen as a referendum on abortion rights. Democrats, however, have seen less than favorable numbers lately with congressional approval at 20 percent according a March study from Statista.
Meanwhile, Republican politicians, overwhelmingly supported by pro-life advocates, will likely ride an overturning of Roe straight to victories with their backers cheering a conservative ability to win over an issue that has divided the nation for decades.
Emboldened by changes in abortion laws, politicians may target voting laws as well. In many of the same states where abortion services have been limited, lawmakers have sought to pass laws that affect the ability to vote. In Texas, for example, S.B. 8, an abortion ban that has been criticized as "draconian," because it encourages people to sue abortion providers, was passed the same day as S.B. 1, which gives power to poll watchers who favor a particular party. In both cases, the Texas Tribune shows, Texas lawmakers empowered people to act in a vigilantist way against both abortion and voting rights.
THE REACTIONS
Last year, Missouri Rep. Cori Bush, publicly shared details of her experience of seeking an abortion after being sexually assaulted. While speaking to a House panel, she expressed her shock and dismay at the Supreme Court draft. "My brain was just saying, how could this happen," she told The New York Times on Tuesday. "As much as we knew it was coming, how could it actually be a real thing? Who could be that cruel?"  In a Twitter post, she joined calls among other Democrats, including Sen. Bernie Sanders and Rep. Alexandria Ocasio-Cortez for Roe v. Wade to be codified, or turning a judicial decision into legal code. President Biden also said that it should be codified and that he would work to make that happen.

"If what is written is what remains, it goes far beyond the concern of whether or not there is the right to choose," Biden said in early remarks about the draft. "It goes to other basic rights: the right to marry, the right to determine a whole range of things.

"Roe says what all basic mainstream religions have historically concluded – that the right – that the existence of a human life and being is a question…so the idea that we're going to make a judgment that is going to say that no one can make the judgment to choose to abort a child based on a decision by the Supreme Court, I think, goes way overboard."
Glynda Carr, President and CEO of Higher Heights for America, a political action committee that supports Black women in political candidacies, expressed how dangerous she feels a reversal of Roe could be.
"Many of the states poised to ban abortion access in the wake of this dangerous decision are listed among those with the largest Black populations," said Carr in a statement. For poor and working-class women, a disproportionate number of whom are Black and Brown, overturning Roe won't mean that abortions will end. It will mean that safe abortions in healthcare facilities will move out of reach."
Vice President Kamala Harris said that an overturning of Roe essentially violates the right to privacy, but also targets women. She warns of the risks that would come with it.

"What is clear is that opponents of Roe want to punish women and take away their rights to make decisions about their own bodies. Republican legislators in states across the country are weaponizing the use of the law against women," she said in a statement. "The rights of all Americans are at risk. If the right to privacy is weakened, every person could face a future in which the government can potentially interfere in the personal decisions you make about your life. This is the time to fight for women and for our country with everything we have."